Lawrence High junior Taylor Eubanks showed up to the new Lawrence Tennis Center on Monday afternoon with only her school shoes: strapped black flats.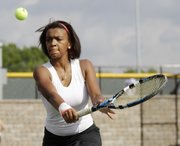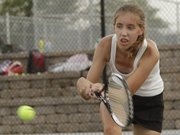 Not exactly ideal for three hours of tennis.
So Eubanks quickly hopped in her car, drove two blocks back to the locker room and grabbed her tennis shoes.
What she didn't forget is how to play doubles with sophomore Abby Gillam.
The pair cruised to an 8-1 victory against Topeka High to open the meet, but at the end of the day, Lawrence finished second overall to Washburn Rural. Topeka West also competed.
LHS coach Steve Hudson tinkered with the lineup after the first round of matches against Topeka High. For the first time, Eubanks paired with senior Morgan Manger for No. 1 doubles. Gillam took the No. 1 singles position for the last two matches.
Eubanks and Manger won their first match together 8-2, but fell 0-8 to a perennially tough Washburn Rural team.
"I don't think we were really communicating," Eubanks said.
Hudson said that communication between doubles partners isn't something that clicks right away. Determining in practice how much or how little a player likes to talk can help out a great deal.
"I think rather than worrying about perfect chemistry at the very beginning, I just want to see them get used to making good doubles moves, using strategy well," Hudson said. "Hopefully the chemistry will develop as they play together more."
Gillam lost both singles matches, but Eubanks said she thought Gillam would have a better chance at making the state tournament if she stayed with singles.
So what does Eubanks want to do?
"I think probably doubles with Morgan and just get more practice in with that," Eubanks said.
Hudson said he knows Eubanks and Manger are solid doubles players.
"Of course I don't expect them to play perfect their first match out this year," Hudson said. "They can play a lot better. We have a lot of room to improve for those two."
The new eight-court Lawrence Tennis Center will certainly make it easier for Eubanks and Manger to practice than it would have been last year. Last season, the Lions practiced on six courts at First Serve Tennis, now called the Jayhawk Tennis Facility. It is a 10-minute drive from LHS to the center.
The additional two courts help a quad like Monday's run about an hour faster, Hudson said.
"It's the perfect number of courts," Hudson said. "It's a good facility, good viewing. It's awesome."
Lawrence will leave its new home this afternoon to take on Leavenworth and Shawnee Mission North at 4 p.m. at Leavenworth. The match was postponed earlier in the season due to inclement weather.
Copyright 2018 The Lawrence Journal-World. All rights reserved. This material may not be published, broadcast, rewritten or redistributed. We strive to uphold our values for every story published.