Bill Self and his wife, Cindy, sat in tall director's chairs in the front of Kansas University's Hadl Auditorium. They faced wave after wave of questioners during Thursday's 90-minute Q-and-A portion of Self's inaugural "Ladies Night Out."
Photo Gallery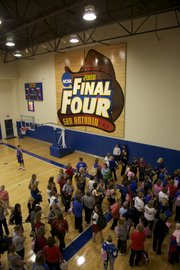 Ladies' Night Out with Bill Self
About 400 women attended the event, which raised money for breast cancer research.
Approximately 400 women joined the city's First Couple in a relaxed, town-hall-meeting-type atmosphere.
Questions at the fundraiser for breast-cancer research covered a variety of topics, including this year's team, of course.
"Our (NCAA title) team in '08 was super-athletic. That team's 3 (small forward) was more athletic than anybody we've had here," Self, KU's eighth-year coach, said of the Indiana Pacers' Brandon Rush. "Brandon never once sat down during a timeout. These guys lay down," Self joked of his current players.
"Except for 'Shady' (Darrell Arthur) and Brandon, this team is more athletic in all the spots. We may not be as deep as '08, but we're fast."
He told the women — who paid between $100 and $125 apiece for a three-hour event that included tours of KU's facilities and interaction with the players — that newcomer Josh Selby "is as talented a freshman as we've had. Now we'll see if he continues to develop and all those things."
He acknowledged that Wednesday's announcement that Selby was academically eligible "was a big, big deal for us. The NCAA took its time. They did what they said they'd do in looking at the situation closely and ruling on it, and you've got to respect them for that. He will probably have to sit some games (as NCAA continues to look into Selby's amateur status), but the biggest thing is him being academically eligible."
One woman — the only men in the building were coaches, players and media members — asked Self what he thought of first-year KU football coach Turner Gill.
Self threw his support 100 percent in the direction of Gill, whose Jayhawks are coming off three blowout losses — to Baylor, Kansas State and Texas A&M; — heading into Saturday's game at Iowa State.
"Turner is a great, great man," Self said. "He will do a good job here. He's been dealt a tough hand. I'm impressed with him because during the toughest of times he has been a stand-up man and a man of integrity.
"It will take some time," Self added. "We can recruit one kid in basketball and change our program. Football needs 10, and many times most of those 10 red-shirt (their freshman seasons). He'll be great. Coaching is beating Georgia Tech after losing to North Dakota State. That's coaching.
"I am a believer. It's going to take time, but it's going to be good," he added of KU football under Gill.
On a lighter side, Cindy and Bill, who at times appeared to be part of a standup comedy team, were asked about their personal lives in Lawrence the past eight years.
• "We watch sports together. We don't do movies," Bill Self said. "We go to two to three movies a year. We like to hang out and chill out at home."
• "He goes straight to sleep after a loss. After a win, it's, 'Let's watch it again,''' Cindy said of her husband and game replays.
"If I want to sleep for 10 hours, we might as well lose," Bill acknowledged. "After winning, there's adrenaline and all that."
• "We've probably had dinner (as a family) once the last three or four months," Bill said. His daughter, Lauren, attends KU, while son Tyler is at Free State High.
"Maybe once a week if we're lucky, once or twice a week," Cindy said of the family dining together during the season.
• "Over the years I've learned you can't get too high or too low, because it's going to change," Cindy said of emotions after winning and losing. "He is good, especially when the kids were little, about not bringing it home with him. We can have a depressing household (with the children older). The whole family can take it bad," she added of losses.
"I don't hear stuff," Bill Self noted of fan reactions. "She listens to talk radio, reads the papers. If you want to ask anybody what is going on, ask the coaches' wives. They know."
Allen Fieldhouse is sold out for the 2010-11 season, KU officials said Thursday. A week ago, it was reported that about 500 season tickets were still available.
"We realized we had a real opportunity to capture new season ticket holders this year and our fans jumped at the chance," said interim athletic director Sean Lester. "The fact that we had so many fans and donors order in the last week is a true testament to the tradition of Kansas basketball and the excitement surrounding this year's team."
Kansas is holding back a few hundred tickets that will be sold on a single-game basis.
"We appreciate the support of our great fans," Bill Self said. "I think it's terrific that new fans will have the opportunity to experience Allen Fieldhouse, the greatest venue in college basketball."
KU will meet Washburn in an exhibition game at 7 p.m. Tuesday in Allen Fieldhouse.
Copyright 2018 The Lawrence Journal-World. All rights reserved. This material may not be published, broadcast, rewritten or redistributed. We strive to uphold our values for every story published.