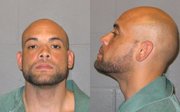 A Douglas County judge Tuesday sentenced a 33-year-old Lawrence man to serve nearly five years in prison for an aggravated battery conviction.
District Judge Sally Pokorny told Damien L. Shields the state sentencing guidelines prevented her from placing him on probation. In September, Shields pleaded guilty to aggravated battery, violation of a protective order and two counts of domestic battery in connection with an April 10 incident.
Prosecutors said Shields committed an act of domestic violence and aggravated battery in Lawrence on April 10. Police were called after the female victim sought help for her injuries.
A judge had already ordered Shields not to have contact with the woman because he faced a domestic battery charge in connection with a Dec. 29 incident against her. In that incident, he was accused of pulling a clump of her hair out during an argument.
After listening to testimony and statements from family members, Pokorny told Shields she was convinced it was a "drug-driven" offense.
"When drugs are not involved I'm told that you are a good man and that when you come out of prison, you are going to be a good man," she said. "You just have to avail yourself."
Copyright 2018 The Lawrence Journal-World. All rights reserved. This material may not be published, broadcast, rewritten or redistributed. We strive to uphold our values for every story published.