As traveling Kansas University fans know, there are Jayhawk alumni seemingly everywhere you look. You can even find one running for the presidency of a South American country.
Juan Manuel Santos graduated from KU in 1973 with degrees in economics and business. Today, he's ahead in the polls in the upcoming Colombian presidential election.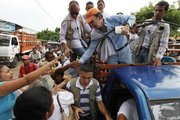 Phil Miller, who today works as a mediator in Kansas City, roomed with Santos when they were both members of Delta Upsilon fraternity.
"From the get-go, Juan always said he was going to go back to Colombia" and get involved in politics, Miller said. "He's got that in his bloodstream."
Miller recalled Santos as a fun-loving, smart-as-a-whip character from an erudite and elite background. They met in a basketball class, and Miller encouraged Santos to join the fraternity.
Santos was one of many members of his family to attend KU.
"He told me it was the intensive English program, combined with journalism" that brought the family to KU, Miller recalled.
Many other members of the Santos family who attended KU went through the School of Journalism. The family operates El Tiempo newspaper in Colombia, the nation's largest media operation.
"That whole bunch has been coming and going," said Larry Day, a retired journalism school faculty member.
Santos went on to study at Harvard University and London School of Economics.
Miller remembered one time when he visited Santos in England during the early 1980s, and Santos took him to an upper room of a casino to play baccarat.
"All I could think about was James Bond," Miller said. "I remember thinking, 'This guy, really, he's got something else here that the rest of us don't.'"
Keith Yehle, KU's director of government relations, remembered a meeting with U.S. Rep. Ike Skelton, D-Mo., when the discussion turned to Santos.
Yehle recalled engaging in some good-natured ribbing about the KU-Missouri rivalry with the congressman.
A member of the House Armed Services committee, Skelton had traveled to Colombia. At one meeting he walked up to Santos, who was then serving as the nation's defense minister, and asked how he learned to speak English so well.
When he learned the reason, he could only laugh.
"'Here I am, in the middle of Colombia, and there's a KU grad standing across from me,'" Yehle recalled Skelton saying.
During his tenure as defense minister, Santos played a role in the rescue mission that eventually led to the 2008 rescue of Ingrid Betancourt, a former Colombian presidential candidate being held hostage by FARC, the Revolutionary Armed Forces of Colombia, a Marxist rebel group.
His time at KU has come up during the campaign, too. Colombia Reports, an independent news organization in the country, reported that the candidate was asked in a radio interview if he smoked marijuana while at KU.
"During the university phase, I smoked marijuana just as almost all (my) colleagues at the universities did," Santos was quoted as saying.
A rival presidential candidate has also admitted to smoking the drug.
The latest media reports in Colombia have Santos leading in the polls heading into the May 30 elections. A runoff election is possible if no candidate gains a majority of the vote.
Copyright 2018 The Lawrence Journal-World. All rights reserved. This material may not be published, broadcast, rewritten or redistributed. We strive to uphold our values for every story published.