Manhattan — In the end, Dusty Maas' speed killed any hopes of Lawrence High making a repeat trip to the Class 6A state tournament.
Photo Gallery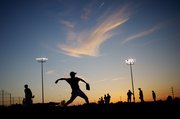 LHS baseball regional tournament 2010
In the bottom of the seventh inning, Maas, the Manhattan shortstop, walked, stole second and third, then later scored the game-winning run on an overthrow as top-seeded Manhattan walked off with a 4-3 victory over fourth-seeded Lawrence in the regional final.
"I'm kind of at a loss for words, to be honest with you," LHS coach Brad Stoll said. "I don't know what to say. There's a huge hole in my heart right now for these kids. They played so hard today."
LHS, the defending state champion, ended its season with an 11-11 record.
Even when the Manhattan players dogpiled a few steps in front of the LHS dugout, most of the Lions still appeared to be shocked by what had just happened.
Going into the bottom of the sixth, the Lions held a 3-1 advantage, with right-hander Alex Laughlin coasting on the mound with seven strikeouts.
"Pretty disappointed. Pretty (ticked) off," LHS senior Chris Parker said. "It just sucks in general. Not really any way to describe it."
Manhattan rallied in the bottom of the sixth, as Garrett Hess started with a single, and Tate Snyder walked with one out.
Mason Miller followed with a single to right to score one and put runners on the corners.
Brooks Lindsay delivered an RBI grounder to knot the score at three.
"I just couldn't locate the ball as well as I could in the previous innings," Laughlin said. "That's pretty much it."
With the score tied at 3 in the bottom of the seventh — and with Laughlin having gone through Manhattan's lineup three times already — Stoll elected to bring in sophomore left-hander Garrett Cleavinger to face a flurry of Manhattan left-handed hitters.
Maas led off with a walk, though, and his speed single-handedly gave the Indians the game-winning run.
Though Cleavinger struck out Ryan Wilkinson, Maas stole second shortly afterwards. After an intentional walk to Kyle Speer, Maas stole third — his fifth steal of the game.
Later, when Speer attempted to steal second base, LHS catcher Jon Pederson faked a throw to second before throwing behind Maas at third.
The toss sailed over third baseman Shane Willoughby's head for an error, and Maas sprinted home for the game-winner.
After the handshake line, Pederson continued to stare into the night air, cupping both hands on the back of his head.
"It's killing him, and it's going to live with him for nine months until we're back on the field," Stoll said. "He'll work. It'll motivate him to be a better player next year. He's already a really good player, and I'm proud of that kid. We went to war with him all year long, and I love that kid."
The loss ruined what was a sparkling performance early by Laughlin.
Through two rotations of the Manhattan lineup, the three-quarters-throwing junior was perfect against righties, as the seven Indians right-handed batters were 0-for-14 with six strikeouts.
"That slider was working well today, and they didn't put any good swings on him," Stoll said. "He did what he was supposed to do."
The defeat was the final game for 10 Lawrence High seniors.
"The season didn't go exactly like we had it planned, but they left a good imprint on this program," Stoll said. "You just hate to say goodbye."
LHS wins opener
Lawrence High senior Albert Minnis pitched a complete game, striking out 11 as Lawrence High rolled to a 9-2 victory over Olathe Northwest in the first game of regionals on Friday afternoon.
The left-handed thrower Minnis allowed five hits and walked three in his 119-pitch effort.
LHS freshman leadoff hitter Shane Willoughby contributed a home run, while Ross Johnson and Aaron Gile added three hits apiece.
Copyright 2018 The Lawrence Journal-World. All rights reserved. This material may not be published, broadcast, rewritten or redistributed. We strive to uphold our values for every story published.