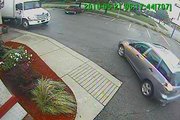 Lawrence police are seeking help from the public, hoping to catch a man who broke into a car in the parking lot of Burger King, 1107 W. Sixth, stealing a purse inside.
The suspect was caught on the restaurant's surveillance cameras.
Police spokesman Sgt. Bill Cory said the suspect appeared to be a white male driving a gray four-door vehicle.
Cory said the man parked next to the victim's car around 6:15 a.m. Friday, stole a purse out of the unlocked vehicle and drove away.
Anyone with information on the auto burglary and theft is urged to call the Lawrence Police Department or the anonymous CrimeStoppers Tips Line at 843-TIPS.
Copyright 2018 The Lawrence Journal-World. All rights reserved. This material may not be published, broadcast, rewritten or redistributed. We strive to uphold our values for every story published.