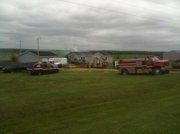 East 550 and North 711 Road
Township firefighters are responding to a report of a house fire in the 700 block of East 550 Road, also known as Douglas County Road 1029.
Initial reports indicate flames are visible at the back of the home, which is south of Clinton Lake, but that no one was injured in the blaze.
Several township fire departments, as well as Lawrence Douglas County Fire Medical, responded.
More, as additional information becomes available.
Copyright 2018 The Lawrence Journal-World. All rights reserved. This material may not be published, broadcast, rewritten or redistributed. We strive to uphold our values for every story published.