A new 34,600-square-foot engineering building on the Kansas University campus will house laboratories for research in a number of multi-disciplinary areas.
On Friday, KU officials broke ground on the engineering campus for the new building, primarily paid for using more than $14 million in federal government dollars. The engineering school and KU are contributing $6.5 million in matching funds for the project from private funds.
No classrooms or offices will be housed in the new yet-unnamed building, said Glen Marotz, associate engineering dean and principal investigator for the grant project.
The building, which will be constructed near Learned Hall, will house all kinds of research — work there will be done on biofuels, drug delivery, artificial knees and much more.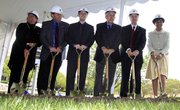 "What could be better than that?" Marotz said. "What could be better than trying to improve the human condition?"
The building's exterior and interior will be home to new sustainable building research. Therefore, he said, as passers-by look at the building on day, they may see grates over the windows, and the next, the grates may be gone, and the windows may all be replaced with new ones.
"You can even use the building itself as an experiment," Marotz said.
In line with federal stimulus guidelines, construction is moving quickly on the building, Marotz said, and could be completed as soon as October 2011.
At the groundbreaking ceremony, KU student Brandon DeKosky, a senior who received a $250,000 research fellowship from the Hertz Foundation, said that the building would open up "tremendous opportunities" for students.
"On a fundamental level, it will provide the lab space and updated facilities and enable us to conduct cutting-edge research on the international stage."
Copyright 2018 The Lawrence Journal-World. All rights reserved. This material may not be published, broadcast, rewritten or redistributed. We strive to uphold our values for every story published.