Photo Gallery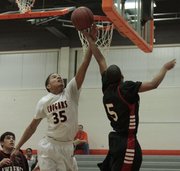 LHS boys vs. SM Northwest
Photos from the sub-state game between Lawrence High and Shawnee Mission Northwest on March 4, 2010.
Shawnee — It was a Murphy's Law-type season for the Lawrence High boys basketball team this winter: Just about anytime the Lions needed a break —a basket here, a defensive stop there — it usually went the other way.
In the case of Thursday's 63-53 loss to host Shawnee Mission Northwest in the opening round of the Class 6A sub-state tournament, it was a dismal second quarter that provided the blemish on an otherwise promising performance.

Despite playing SM Northwest evenly throughout the rest of the game — the Cougars outscored LHS by just one, 46-45, in quarters one, three and four combined — the Lions couldn't overcome an extended hiccup during the game's second quarter that put them in a nine-point hole they weren't able to dig themselves out of.
"You hate to end on a note like that, where you look back and think that if a couple things went this way or that," said LHS first-year coach Mike Lewis. "But we had a lot of games like that this year. That's probably what we'll be remembered for this season."
The Lions jumped to a quick 7-2 lead to start the game — which could have been 9-2 if not for a botched lay-up attempt — as seniors Marcus Ray and Michael McCabe hit back-to-back shots to get things going.
But the Cougars closed the quarter on a 7-2 run of their own, tying the game at nine after one quarter and building off their offensive surge to start the second stanza.

The bulk of that offense came courtesy of junior guard A.J. Spencer, who scored 10 of his game-high 27 points in the second quarter, hitting back-to-back three-point attempts early on and helping propel SM Northwest's transition offense.
"We did our best to stop him," said McCabe, who finished with a team-high 16 points. "But sometimes when you hit shots, you hit shots."
The Lions spent the rest of the game carrying out an unsuccessful quest to climb to within striking distance. McCabe came out hot in the second half, scoring 14 points in the final 16 minutes, but Spencer poured in 15 second-half points and 6-foot-8 center Steve Carver — held to just five points on 2-of-7 shooting through three quarters —scored eight in the fourth quarter to help SM Northwest advance to Saturday's second round.
The loss concluded a 4-17 season for Lawrence High in which the Lions dropped their final seven games.
"I can't believe it's over," said Ray, a large part of the team's success over the past two seasons. "It's like I just started with sophomore basketball yesterday, and now it's over."
Heading into next season, however, Lewis will have the luxury of a fairly experienced roster.
The Lions lose starters Ray, McCabe, Steven Melton and Matt Montes de Oca to graduation, but return a number of underclassmen — including talented sophomores Anthony Buffalomeat, K.J. Pritchard and Logan Henrichs — that received significant playing time this season.
"A year like this really gets you excited about getting back in the gym as soon as possible," said Lewis, who praised the senior class for their efforts to help the younger players along this season. "It's about working hard and working together, and if you do those things, things usually turn out OK."
Copyright 2018 The Lawrence Journal-World. All rights reserved. This material may not be published, broadcast, rewritten or redistributed. We strive to uphold our values for every story published.