Photo Gallery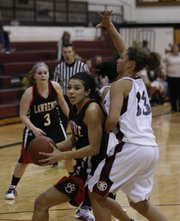 LHS girls vs. Shawnee Mission North
Photos from the Lawrence High girls basketball game against Shawnee Mission North on March 3, 2010. The loss ended the Lions' season.
Overland Park — Earlier in the week, Lawrence High girls basketball coach Nick Wood insisted that limiting Shawnee Mission North standouts Brianna Kulas and Mary Pat Specht would be integral to his team's ability to emerge from the teams' Class 6A sub-state matchup Wednesday.
So it was far from encouraging when, to start the game, Kulas and Specht hit back-to-back three-pointers in what proved to be a sign of things to come in the Lions' season-ending 54-42 loss.
"Defensively, we knew we had to focus on them," Wood said. "... If you make any kind of mistake, they're the kind of players that make you pay for it."
Lawrence High paid handily throughout the night, as Kulas and Specht combined for 14 of their team's first 16 points and finished with 16 and 12 points, respectively, on a combined 10-of-18 shooting.

In the end, however, the Lions' problems stretched far beyond an inability to slow the Indians down offensively.
The Lions shot just 14-of-47 from the field (29.7-percent) and lost the rebounding battle by a lopsided margin (36-15) in addition to turning in a disastrous first-quarter performance, during which they managed just five points on one field goal and fell into a 13-3 hole to start the game.

"It was really rough," said senior Haley Parker, who scored two points in her final prep game. "That was one thing we were trying not to do. We (wanted to) start strong."
Despite the uninspired start, LHS did manage to claw its way back into contention.
The Lions used a strong second quarter to pull within six at halftime and were down just five midway through the third quarter following a small run that seemed to breathe some life into the team.

"We started getting a little pumped there, started getting up the floor," junior Tamiya Green said.
They couldn't cut their deficit to any fewer than eight in the fourth quarter, however, as the Indians shot 8-of-16 down the stretch and capitalized on six fourth-quarter LHS turnovers to ensure themselves a spot in Friday's second round.
The loss gives the Lions an 8-13 final record, and although the abrupt postseason exit proved emotional — a lot of red eyes emerged from the team's locker room afterward — Wood thanked his team for helping make his inaugural season as coach enjoyable.
"I just told them I appreciate everything they did this year," he said. "I know it was a transition for them .They'd been used to a certain system, and I came in with new ideas and philosophies. I was just happy how they bought in.
"I know we didn't win as many games as we wanted to," he added, "but this was a great group of kids."
Copyright 2018 The Lawrence Journal-World. All rights reserved. This material may not be published, broadcast, rewritten or redistributed. We strive to uphold our values for every story published.