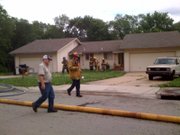 Firefighters rescued a dog from a burning home on Jana Drive Tuesday morning.

Several 911 calls came into the Douglas County dispatch center around 10:30 a.m. Tuesday, reporting a fire on a deck at a home in the 1000 block of Jana Drive.
When firefighters arrived, they discovered the interior of the house, 1036 Jana, was actually on fire.
No one was at home in either units of the duplex, but Lawrence Douglas County Fire and Medical Chief Mark Bradford said a dog was rescued from the home.
The yellow lab was inside a kennel on the back deck of the duplex but wasn't in any immediate danger.
"The dog was removed by one of the firefighters and the city animal control came to take the pet and house it for awhile until we can get a hold of one of the owners," Bradford said.
Firefighters are still working to determine was caused the fire but believe it originated in the back of the house.

Bradford said the duplex suffered some "fairly significant damage," and the residents would most likely be displaced.

Copyright 2018 The Lawrence Journal-World. All rights reserved. This material may not be published, broadcast, rewritten or redistributed. We strive to uphold our values for every story published.