I-470 and Gage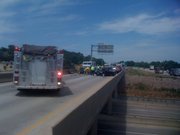 Topeka — An accident involving several vehicles caused a major traffic backup on eastbound I-470 near Gage Boulevard in Topeka.
KTKA.com reports that several people were injured and taken to area hospitals. Two people told KTKA they caused the accident when mattress box spring fell out of the bed of their pickup truck.
Emergency crews detoured traffic onto Gage from I-470 until about 1:45 p.m. At one point, eastbound traffic was reportedly backed up to the 21st Street exit.
Check with LJWorld.com for updates.
Copyright 2018 The Lawrence Journal-World. All rights reserved. This material may not be published, broadcast, rewritten or redistributed. We strive to uphold our values for every story published.