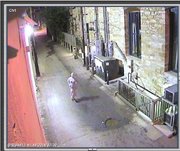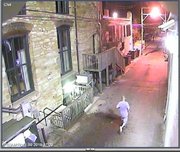 Lawrence police are investigating the city's latest sexual assault. According to authorities, an unknown man approached two women walking in the 700 block of Massachusetts Street early Thursday morning. One of the two women told police that the man came from behind, put his arm around her and sexually assaulted her.
Police said the attack on the 23-year-old victim happened quickly, and then the man fled the area. He reportedly ran through the east alley of the 800 block of Massachusetts Street, toward Ninth Street, then disappeared around the corner of a building into the city parking garage that faces New Hampshire Street.
The police department released several still images from a security camera, showing the man running through the alley. Authorities said the man shown was positively identified as the attacker. If arrested, he will be booked in jail on a charge of rape.
The same security camera used in this case has helped police in other incidents. In April, the privately owned and operated camera captured video of several people spray painting graffiti in the alley. The security camera belongs to the law office of Riling, Burkhead and Nitcher. Recently, the camera captured video of more vandals.
Police hope the released images will help them solve these downtown Lawrence crimes. Anyone with information should call detectives at 830-7430.
Copyright 2018 The Lawrence Journal-World. All rights reserved. This material may not be published, broadcast, rewritten or redistributed. We strive to uphold our values for every story published.