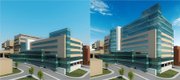 Kansas University Hospital's Center for Advanced Heart Care will undergo a $50 million expansion that will add three new patient care floors.
The KU Hospital Authority Board approved the project during its regular bi-monthly meeting on Tuesday.
The new floors will be added to the top of the existing facility on the north side of the main hospital in Kansas City, Kan. The seventh floor space will increase the center's capacity by 32 patient beds.
The eighth and ninth floors will be constructed as shell space for future use, but could accommodate a 32-bed unit and a 24-bed unit.
The project will add 123,000 square feet to the existing 238,000 square-foot building.
It's expected to be completed, with the seventh floor open to patients, by summer 2012.
Tammy Peterman, KU Hospital's chief operating officer and chief nursing officer, estimated that the hospital would hire about 60 to 100 employees to serve the new space.
KU Hospital officials said the addition would help serve rising inpatient volumes, which increased about 8 percent in the fiscal year ending June 30.
"What we try to do is build out to keep up with the demand that we've got," said Jon Jackson, senior vice president and chief administration officer. "We don't want to get behind."
The same team that designed the original building — architectural firm RTKL, of Dallas, and J.E. Dunn Construction of Kansas City — will design and build the new space.
In other business at the meeting, the board:
• Approved an $801.6 million annual operating budget for the upcoming fiscal year. That figure represents nearly a 10 percent increase from last year's budgeted expenses of $742 million.
Much of the KU Hospital budget is kept from public view under a law that allows the authority to protect business and proprietary information that could result in an advantage for its competitors.
• Re-appointed board members Robert Honse as chairman of the board and Dave Kerr as vice chairman.
Copyright 2018 The Lawrence Journal-World. All rights reserved. This material may not be published, broadcast, rewritten or redistributed. We strive to uphold our values for every story published.