Orlando, Fla. — Former Kansas guard Sherron Collins scored two points on 1-for-2 shooting in the Charlotte Bobcats summer league team's 86-85 victory over Oklahoma City on Tuesday.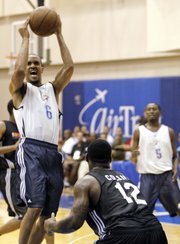 Collins contributed two assists and one turnover in 10 minutes. After committing six fouls on Monday, Collins had just one personal Tuesday.
The 5-foot-11 Collins' only action came in the second quarter, as he played the entire 10-minute period.
Rick Bonnell, the Charlotte Bobcats' beat writer for the Charlotte Observer newspaper, reported on the Observer's website that Collins' limited playing time Tuesday " ... wasn't a demotion, so much as the Bobcats wanting to distribute some minutes to Jeremy Pargo and Denis Clemente. However the Bobcats would like Collins to lose about 10 pounds."
The former Kansas State guard Clemente didn't put up a shot in 12 minutes. He finished with an assist, two turnovers and five fouls.
Pargo, who is the third point guard in the Bobcats' rotation, scored seven points on 3-for-5 shooting in 18 minutes. He also added three assists and three turnovers and hit the game-winning shot as time expired.
Robinson plays
Former Kansas guard Russell Robinson received his first playing time of the NBA summer league season, logging four minutes in the Indiana Pacers summer league team's 80-69 loss to the New Jersey Nets.
Robinson's box score line was blank except for two personal fouls he committed during his four minutes.
Copyright 2018 The Lawrence Journal-World. All rights reserved. This material may not be published, broadcast, rewritten or redistributed. We strive to uphold our values for every story published.