Photo Gallery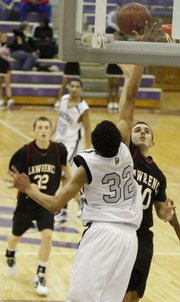 LHS basketball vs. Abraham Lincoln (Colo.)
Topeka — Do you believe in … ? Well, it wasn't really a miracle, but it certainly was a stunner.
Lawrence High, the team with the worst basketball record (1-7) in the Topeka Invitational, shocked Denver Lincoln, 54-46, in a first-round game Thursday night at Topeka West.
"I think we wanted it more because they were the No. 1 seed," said senior guard Marcus Ray, who led the Lions with 17 points. "We came in thinking they were pretty good."
The Lancers made the long journey from Colorado with a 10-2 record and a reputation for making life miserable for opposing offenses.
"I got two good scouting reports on them," Lions' coach Mike Lewis said, "and we knew they'd be aggressive and trap and go after us for four quarters."
In fact, Lincoln forced Lawrence into 22 turnovers, but in the final analysis, the Lions' ability to force the Lancers into a halfcourt offense often enough proved decisive because the Lancers looked lost against Lawrence's 2-3 zone defense.
"That 2-3 zone is our baby," Lewis said. "We're going to stick with it. That's saving us."
Lincoln couldn't push the ball inside against that zone and soon proved it couldn't shoot well enough from the outside to force Lewis to abandon the strategy.
"They kept shooting from the outside and missing them," Lawrence senior forward Matt Montes de Oca said.
Lincoln, the only out-of-state entrant in the eight-team tourney, shot a chilly 29.4 percent (15 of 51) and, worse, was dreadful from the free-throw line, cashing just 13 of 29 charities.
Meanwhile, the Lions were no great shakes as shooters themselves, making 18 of 48 from the floor (37.5 percent) and just 16 of 25 free throws. Their defense did the trick, however.
"Our zone took them out of their comfort zone," Lewis said.
In advancing to today's 8:30 p.m. semifinal, the Lions reversed a disturbing season-long fourth-quarter trend. On a handful of occasions, they had stayed close in the last period, only to wilt down the stretch.
That scenario was a distinct possibility again Thursday night because the Lancers had erased the Lions' 12-point third-quarter lead and forged a 40-40 deadlock with 71⁄2 minutes remaining.
There would be no fade this time, though. Montes de Oca hit a free throw, and K.J. Pritchard and Garrett Wagner followed with baskets to give the Lions a five-point cushion.
Minutes later, the Lancers cut the deficit to 45-44, but once again the Lions responded on a baseline drive by Anthony Buffalomeat, and four charities by Ray in the waning seconds iced the surprising triumph.
"Maybe it's just that we're more experienced now," Montes de Oca said of the Lions' new-found late solidity, "and decided enough was enough."
Ray's 17 points included a perfect 8-for-8 from the free-throw line.
Pritchard contributed 12 points off the bench, and Buffalomeat, although in foul trouble early, added 11. Montes de Oca had seven points, with five coming at the foul stripe.
Copyright 2018 The Lawrence Journal-World. All rights reserved. This material may not be published, broadcast, rewritten or redistributed. We strive to uphold our values for every story published.