Lawrence Memorial Hospital leaders celebrated its successes Thursday evening, but said those couldn't have been accomplished without the community's support.
"From kids gifting little things at their birthday parties to big gifts, it all makes a difference," said Kathy Clausing-Willis, LMH vice president and chief development officer. "That goes directly to patient care at Lawrence Memorial Hospital."
Hospital support
The Lawrence Memorial Hospital Endowment Association, which was founded 40 years ago, secures private gifts and financial support for medical education, research, land acquisition and hospital programs.
If you would like to make a donation or volunteer, call the association at 505-6134 or visit lmhendowment.org.
Photo Gallery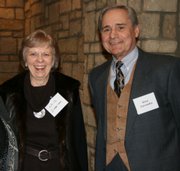 Party pix from LMH Endowment Association annual meeting
The Lawrence Memorial Hospital Endowment Association's annual meeting was Jan. 21 at The Oread. About 280 people attended the event, where the hospital recognized the past year's achievements. It also honored the community for its support and contributions.
Moments from LMH Endowment Association's annual meeting
About 280 people attended the annual LMH Endowment Association meeting at The Oread. The association raised $1.8 million for the hospital last year. Its financial support goes toward medical education, research, land acquisition and hospital programs.
Clausing-Willis said 1,900 people contributed to LMH in 2009. They gave 2,627 gifts which totaled about $1.4 million.
"Every gift is important to us," she said. "They help empower our physicians and our clinical staff to provide exceptional, quality care to the people who come to us."
Besides money, the hospital benefited from 60,000 hours in volunteer time.
"Facilities are important. Financial support is important," said LMH CEO and President Gene Meyer. "But what's really important to LMH, are our associates, our medical staff, our employees and our volunteers."
Award recipients
The hospital honored several community members who went "above and beyond." Those who received Elizabeth Watkins Community Caring Awards were:
• Bill Dann, son of Anne "Petey" Cerf, co-founder of the LMH Endowment Association. Dann has continued the tradition of supporting the hospital through substantial gifts and visits to the LMH cafeteria.
• Connie Sollars, who served on the association's board of directors from 2003-2009. She volunteers with fundraisers and will be serving as co-chair of this year's Hearts of Gold Ball, which will benefit the cardiology department. She also has made substantial financial contributions.
• Lawrence Plastic Surgery, which sponsors events such as the Stepping Out Against Breast Cancer dance and the Penny Jones Golf Tournament. In 2009, the dance raised $60,000 and the golf tournament raised a record $106,000. Staff members also volunteer to serve on various LMH and LMHEA committees.
• Penny's Concrete, which is a longtime donor. It made the first corporate sponsorship to the Hearts of Gold Ball in 1999. The biennial event has raised $920,000 since then. Owners Bill and Marlene Penny also have made significant monetary contributions. Marlene Penny served on the association's board of directors.
• Betty Moles, who has been an LMH employee since 1992. She works in the Family Birthing Center. She has served as co-chair of the LMH Employee campaign since 2002. Under her leadership, LMH employees raised more than $290,000 for the capital campaign, employee education, and crisis assistance for employees in need.
The hospital also honored the Endowment Association's outgoing board members: Beverly Smith Billings, chairwoman of the Alvamar Development Corp.; Dr. Scott Robinson, president of Lawrence Emergency Medicine Associates; Deanell Tacha, chief judge on the 10th Circuit U.S. Court of Appeals; and Stan Zaremba, CEO of Zarco 66.
The hospital also recognized the late Bob Frederick, former Kansas University athletics director, for serving on the board.
"We were grateful for having him the time we did," LMHEA President Jane Eldredge said. "He was such a quiet leader with an infectious smile. He had a great understanding of what it takes to motivate people."
His wife, Margey, accepted the award.
"Of all the boards that Bob served on locally, statewide and nationally, he truly loved this one," she said. "When he came home from every meeting, he had a sparkle in his eye and had something to tell me. He loved working with all of you and he loved the hospital."
New board members were introduced: Marilyn Bittenbender, senior vice president/principal with Grubb & Ellis/The Winbury Group; Dr. Jon Heeb, of Lawrence Urology; Teresa Mulinazzi Kempf, owner of Ameriprise Financial Services; and Shade Little, former assistant dean for academic support services at the University of North Carolina.
Dr. Richard Orchard, a retired ophthalmologist, will be the LMHEA president in 2010.
"The hospital has always been important to me, so I wanted to become involved in the endowment," he said.
Orchard said the hospital is facing tough times because of the economy and health reform.
"There's going to be less reimbursement in the future and that means the Endowment is going to have to step up," he said. Its goal is to raise 10 percent more than it did in 2009.
Past year's accomplishments
That's because hospital leaders want to continue to build on the successes of 2009.
Among those mentioned during Meyer's presentation:
• LMH offered the largest number of clinical oncology trials — 125 — in the northeast Kansas and northwest Missouri region.
• The LMH-affiliated practice Cardiovascular Specialists of Lawrence opened in November.
• The hospital opened a new anticoagulation clinic, which averages about 500 patients per month.
• It began its first Pharmacy Residency program.
• Its door-to-balloon time averaged 52 minutes, ranking it first among 982 hospitals of similar size. That's the time from when the patient enters the hospital to when the artery is opened.
• LMH opened its new surgery department in March. Since then, surgical volume has been at the highest level in five years.
• The hospital's credit rating was upgraded.
• It affiliated with Lawrence General Surgery, a new group of surgeons. Since opening Jan. 4, the practice has had 700 patients.
"We've had a really great year in many areas," Meyer said.
He said the hospital will weather tough economic times, including an increase in charity care, state Medicaid reimbursement cuts and what might be coming from federal health reform.
"We have positioned ourselves with the flexibility and foundation to move forward, regardless of what is handed down from Washington," Meyer said.
Copyright 2018 The Lawrence Journal-World. All rights reserved. This material may not be published, broadcast, rewritten or redistributed. We strive to uphold our values for every story published.