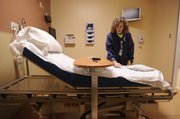 Come celebrate
Lawrence Memorial Hospital is having an open house and ribbon-cutting ceremony for its new $14 million surgery department. The public event will be from 4:30 p.m. to 6:30 p.m. Thursday at the hospital, 325 Maine. Refreshments will be served. The surgery department marks the final phase of a three-year, $45 million expansion that added 125,000 square feet of space.
Nurses are eager to begin working in Lawrence Memorial Hospital's new $14 million surgery department, which officially opens March 16.
As they put it, they won't be "bumping butts" anymore.
The department is twice the size of the old, 14,000-square-foot area where carts and equipment line the narrow, eggshell-colored halls because there is no storage space.
"I hope you aren't thirsty," Lisa Rector, a registered nurse, said sarcastically while pointing to a water fountain hiding behind a cart loaded with supplies.
Rector provided a tour of the old and new departments, showing a visitor "her desk." It is located in the small pediatric recovery room, where clean linens also are kept.
"I share my desk with everyone who walks by and all the doctors who need a place to dictate or write orders," said Rector, who has worked in the surgery department for 18 years.
The pediatric recovery room has three beds with curtains that serve as dividers.
In the new department, the pediatric recovery area has three separate rooms that have sliding glass doors. If a child is crying, it won't affect the other patients.
Elsewhere, there is plenty of storage space for fresh linens and equipment. The hallways are twice as wide and painted in earth tones.
Rector finally will get her own desk inside an office. "It's so cool," she said.
There are about 50 nurses and 50 doctors who use the department. About 4,500 surgeries are performed at LMH each year.
The department also has new technology to work with.
"The trend is to go toward more and more minimally-invasive surgery using more videoscopic-type procedures," said Dr. Dale Denning, who has been a surgeon in Lawrence for 20 years. He served on a committee who helped decide what equipment to purchase and where it should go in the new department, which occupies the old emergency department and then was expanded to the north and east.
Surgeons will be able to look at a screen directly over the operating table to get the data they need instead of having to go look at a computer screen. The operating rooms also will be equipped with a rotating boom that is connected to the ceiling. So, the standard equipment —cautery, suction and video equipment — will be located on the boom which can be placed on either side of the operating room bed. This will eliminate the need to pull equipment carts in and out of the operating room as well as the occupational hazard of tripping over cords on the floor.
"I think the biggest thing that I am looking forward to is having a more well-organized operating room with less clutter, cords on the floor — that kind of thing," Denning said.
Beneficial for 'everyone'
The surgery department will have a new entrance on the east side of the hospital. There will be a covered pick-up and drop-off area for patients coming for surgery and radiology procedures. The entrance is much closer to the two departments that will share a registration desk, but will have their own waiting rooms. There also will be parking available next to the entrance.
Here are some of the other significant improvements for patients and their families:
● Surgery admitting rooms. The current department has tiny, private rooms with a recliner. The rooms are so small that a stretcher can't fit into the room, so patients are asked to walk into surgery or they are transferred with a wheelchair, and doctors have to examine patients in the recliners. The new rooms are much bigger, so patients can be moved to surgery on a stretcher.
● Family waiting room. There will be three times more waiting space for family members. The department now has two small areas and they are usually filled, leaving loved ones waiting in the hallways.
● Recovery area. The new recovery bays will be bigger and more private with a wall between every two bays instead of curtains. Nurses will be able bring family into the recovery room sooner. Each bay will have a family chair, TV and phone.
Piece of the cake
The new surgery department is the final phase of a three-year, $45 million project that began in October 2006.
The project was the result of a long-range plan that took place in the early 2000s.
"We went department by department and not only interviewed the department directors, staff and physicians, but also looked at a number of statistics and also predictions for the future in terms of some of the key areas," said Gene Meyer, president and CEO. "The common theme from that was our facility, at that time, lacked a number of privacy issues, lacked the most efficient way of delivering care as well as some stresses in terms of volume-related areas."
So, the project involved updating and adding privacy and space in the emergency department, maternity department, intensive care unit and in-patient rooms.
The project has added another 125,000 square feet to the hospital's main campus at 325 Maine. The hospital now occupies about 500,000 square feet of space.
The project was funded mainly through bonds and a capital campaign that raised $8 million between 2005 and 2007. More than 2,000 people contributed to the project.
"We had kids that had birthday parties and instead of bringing gifts for their birthday party, they collected contributions for the hospital expansion. So, all the way from those kind of gifts — all the way to a $1 million gift," said Kathy Clausing-Willis, vice president and chief development officer. "Every gift is important to us. So, that's pretty incredible to have that many people contribute to the hospital."
She said the surgery center "kind of puts the frosting on the cake for all of the hard work."
Brighter future
Having a state-of-the-art hospital is good for the community for a number of reasons, leaders said. It helps recruit good doctors, which helps recruit businesses to town. It also might encourage Kansas University graduates and others to retire here.
That's why Dr. Justin Anderson, a Lawrence dentist, said his family gave a significant donation to the project.
"We give it to LMH because it is a wonderful place and I intend to be here for a long time; hopefully, if everything goes right. I intend to raise my children here and retire here and live here for a long, long time."
Anderson became a member of the LMH Endowment Association three years ago and has learned a lot about what it takes to operate a nonprofit hospital.
"I am proud of LMH and the staff there for their hard work and success and raising the money that it needed to get, in order to get the whole thing done. It's just amazing that we are going to have one of the best hospitals in the entire Midwest," Anderson said.
Dr. Denning said a lot of physicians contributed time and money to the project.
"This really, as far as I am concerned, is like planting a tree," he said. "You don't plant trees for yourself. You plant trees for the next generation and this is a way for us to help ensure that the citizens of the community will have state-of-the-art facilities."
Copyright 2018 The Lawrence Journal-World. All rights reserved. This material may not be published, broadcast, rewritten or redistributed. We strive to uphold our values for every story published.