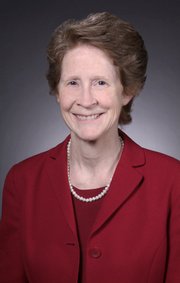 Related document

Susan Carlson's Curriculum Vita ( .PDF )
Kansas University's first candidate for the dean of the College of Liberal Arts and Sciences is Susan Carlson, associate provost for faculty advancement and diversity at Iowa State University.
She will visit the KU campus and participate in an open forum at 3 p.m. Monday at Alderson Auditorium in the Kansas Union.
She has spent her career at Iowa State, and served as the school's interim provost and vice president for academic affairs in 2006.
Carlson's academic specialty is English, and she has taught classes in drama, literature, literary theory, women's studies and writing.
She is the first of four finalists for the position, and names of the additional finalists will be released 48 hours before their scheduled campus visits.
Copyright 2018 The Lawrence Journal-World. All rights reserved. This material may not be published, broadcast, rewritten or redistributed. We strive to uphold our values for every story published.