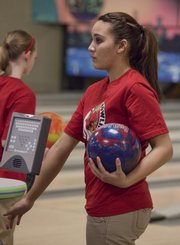 When they heard last week that their regularly scheduled season opener was postponed because of cold weather, the Lawrence High bowlers spent about 15 minutes being disappointed and the rest of the week preparing for their next season opener.
That showed Thursday, when the Lions dusted the competition at their home quad at Royal Crest Lanes.
The LHS boys and girls both finished atop the team standings, with the boys holding off Kansas City Washington by 59 pins and the girls edging K.C. Schlagle by 180.
While there might not have been a heated battle at the top of the team standings, LHS seniors Tanner Kilmer and Ryan Miller created one at the top of the team race.
Miller, known for rolling a 299 during tryouts this season, seemed to be headed toward a similar feat in his final game of Thursday's three-game series. After tossing a 218 in the first game and improving slightly for 222 in Game 2, Miller exploded with eight straight strikes in the finale. For the first half of his impressive run, Miller said he merely focused on doing his best to help his team. He finally started thinking about perfection (300) when the later frames came calling.
"In the first four or five you just want to get going for your team," Miller said. "But I think I started thinking about it around the seventh or eighth frame. It does kind of psych you out, but it's kind of like a pitcher in baseball. Once the pitcher's on the mound, they're focused in. Once I got into my approach, all those thoughts went away."
Unfortunately for Miller the pins didn't follow suit. He left one standing in the ninth frame (which he picked up with a spare) and one more standing after his final ball in the 10th. That's it. Two pins separated Miller from perfection on Thursday. Not that it bothered him much.
"After I didn't get a strike in the ninth, my mind shifted to getting 700 for the series," Miller said. "And I knew I had it when I got a strike on my first ball in the 10th."
Miller finished with a 708 series, six pins (one per game, per bowler) ahead of Kilmer, who finished with a 702. Asked if the heated showdown in the opener sparked an intrasquad rivalry, Kilmer laughed and said, "No, we're good."
Kilmer's high game for the day was a 264. Miller rolled a 268 in the third game. The two were followed in the LHS scoring by Ben Wyatt (562), Josh Russell (559), Riley Gentry (550) and Chad Boyd (524).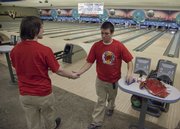 "The thing I'm most excited about is how our team bowled," Miller said. "We picked each other up after bad frames and just kept encouraging each other the entire day."
That should bode well for the Lions, who will return to Royal Crest Lanes at 9 a.m. today for the 11-team Free State Invitational. That was the idea for the LHS girls, who were led Thursday by Alexah Gudenkauf's 561 series and a 501 series from Danielle Husted.
"This was a practice meet," Husted said. "The Free State Invitational is where you want to perform your best."
Husted's best game came in the middle of her series as she surrounded her second-game 190 with a 157 and a 154. Gudenkauf also had the high game for the girls with a 209. She also rolled a 182 in the opening game and a 170 in the middle.
The LHS girls' first-place finish also included strong performances from Rebecca McNemee (470), Kirstyn Heine (434), Morgan Boyd (420) and Raquel Rodriguez (292).
Copyright 2018 The Lawrence Journal-World. All rights reserved. This material may not be published, broadcast, rewritten or redistributed. We strive to uphold our values for every story published.