James Naismith rests in peace at Memorial Park Cemetery in Lawrence, but a bronze likeness of the inventor of basketball soon will live on near the place the game was born.
Elden Tefft, a former art professor at Kansas University, this weekend will be delivering his latest bronze casting to Springfield College in Massachusetts, the campus where Naismith invented the game of "basket ball" back in 1891.
The bronze, gleaming Naismith — seated upright in a three-piece suit, with a ball on his right thigh and two peach baskets stacked at his feet — soon will hold court at Naismith Green, a commons area on the historic campus.
"Basketball was James Naismith's gift to humanity," said Richard Flynn, president of the college. "The new statue … on our campus will be an ongoing reminder of his legacy to Springfield College and to the world."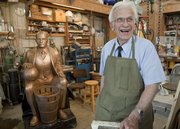 Tefft spent seven years working on the sculpture at Tefft Terra, his studio off O'Connell Road at the southeastern edge of Lawrence. Tefft started with a small bronze casting, then fashioned a clay model and, recently, cast the nearly 400-pound final piece that soon will be seated on a granite bench in Massachusetts.
The entire project has cost about $120,000 so far, Tefft said.
Springfield College, which had been in the market for a Naismith sculpture, agreed to finance the casting. Tefft soon will begin work on an identical casting for delivery to a Naismith foundation in time to celebrate next year's 150th anniversary of Naismith's birth in Almonte, Canada.
Tefft, 90, next would like to place a third version at KU or elsewhere in the Lawrence area, where Naismith founded KU's own basketball program in 1898 while teaching classes in physical education. While Naismith would end up as the only KU coach to post a career losing record — 55-60 — he also would go on to serve as athletics director and chapel director.
"We have to get one here in Lawrence," said Tefft, who is seeking sponsors. "Then we'll have all the footprints of his life covered."
Copyright 2018 The Lawrence Journal-World. All rights reserved. This material may not be published, broadcast, rewritten or redistributed. We strive to uphold our values for every story published.