Police are looking for a silver or light-colored 2004 to 2006 Mazda 3, with possible front-end damage, in connection with a Jan. 31 hit-and-run accident that left a Lawrence woman with serious injuries.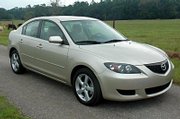 Officers released specifics of the suspect car on Tuesday and asked anyone with information about the accident to call detectives at 830-7430. Anonymous tips can be made by calling Crimestoppers, at 843-TIPS (8477).
Witnesses said a driver hit 32-year-old Krystyn Renfro, as she was walking in the 2700 block of Lawrence Avenue, and then kept driving. The accident occurred about 1:15 a.m. Jan. 31, a Sunday morning.
Renfro was transported by air ambulance to a Kansas City trauma center, where she was listed in serious condition on Tuesday.
Copyright 2018 The Lawrence Journal-World. All rights reserved. This material may not be published, broadcast, rewritten or redistributed. We strive to uphold our values for every story published.