Photo Gallery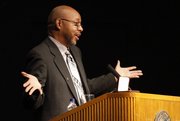 Leonard Pitts at KU
Nationally syndicated columnist Leonard Pitts told a Kansas University audience the importance of pursuing truth on Friday.
In an era where facts are becoming increasingly malleable to fit one's political beliefs, it becomes all the more necessary to think critically before reaching a conclusion, Pitts said.
"We have embarked on an era where many of us believe that all facts are created equal," he said. "Saying it out loud, putting it online makes it true."
Pitts came to KU to accept the 2010 William Allen White Foundation National Citation, given annually to a journalist who has made outstanding contributions to the craft.
Past winners include Walter Cronkite, George Will and Bob Woodward. Pitts' work made him a natural choice for the award, said Tom Eblen, chairman of the William Allen White Foundation, named for the former publisher of the Emporia Gazette and the namesake of the KU School of Journalism.
Pitts has worked as a columnist for the Miami Herald since 1994, before which he worked as a pop music critic. He won the Pulitzer Prize for commentary in 2004.
"He challenges readers in a way they need to be challenged," Eblen said.
In his acceptance speech, Pitts challenged the media, particularly newspapers, to sift through lies and challenge inconsistencies — something perhaps done best in the current era by Jon Stewart and his Comedy Central television show, Pitts said.
"Something is wrong when a comedy show performs this function and the media does not," Pitts said.
Pitts called for people across the political spectrum to go outside the black and white and to "live in the grays."
He pointed to a number of verifiable facts being questioned by chain e-mails and Internet rumors, such as those who claim that President Barack Obama was not born in Honolulu. Building an argument out of these "false facts" is a bit like trying to build a skyscraper out of sand, Pitts said.
"Eventually, it all comes tumbling down," he said.
Copyright 2017 The Lawrence Journal-World. All rights reserved. This material may not be published, broadcast, rewritten or redistributed. We strive to uphold our values for every story published.