I can't believe it has been almost a year since I met Michael Douglas of Wellsville. This young man truly inspired me with his sense of humor and love for life despite having a rare lung disease.
This K-State fan also quickly learned that 11-year-old Michael loves sports, especially the Kansas University Jayhawks. Sporting events give him something to look forward to and to talk about — something besides his illness.
Photo Gallery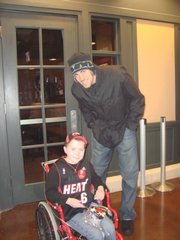 Michael's sporting adventures
Wellsville resident Michael Douglas has been invited to meet his sports heroes during the past year after a story about his battle with a rare lung disease was published in the Journal-World.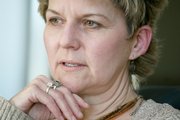 Since his story, "A little Miracle," appeared in the Journal-World, he has been invited into the KU men's basketball locker room and met Mario Chalmers and the Miami Heat. His mom, Lisa, said the year's sporting adventures have provided a nice distraction.
Michael's condition hasn't changed much from a year ago. He is on oxygen at all times. He uses an electric wheelchair at school because Wellsville Middle School is larger than elementary school. He still has steroid treatments every six weeks and is taking medications.
Lisa tries to keep me posted on how Michael is doing and about his latest activities concerning sports. And I love hearing about them.
Here's what Lisa had to say today:
"I think Michael has recovered from the close KSU vs. KU game this weekend. We had to go to a ball game to watch his sister dance during the end of the KU game and Michael just sat in the gym with a radio and earphones listening to the excitement. During overtime, he had people sitting around him and he was giving a play-by-play to them. I don't think he was breathing quite right until the game was over and KU had won.
"Michael has continued to stay healthy this winter. He seems to do a good job of washing his hands and using antibacterial items. He had a second shot of both the seasonal flu shot and H1N1 in January, so I'm hoping we can keep him well. He loves middle school and so far has got all As.
"For Christmas, Michael received tickets to the NBA game in Oklahoma City where Miami Heat played Oklahoma City Thunder. So, on Jan. 16, we went to the Ford Center to see if we could get him in to see Mario Chalmers and the rest of the team. Well, the staff at the Ford Center was unbelievably nice. ... They let Michael watch the team shoot around before the game."
Michael was able to get autographs from players including Dwayne Wade, Michael Beasley and Mario Chalmers.
"Michael was so excited because Michael Beasley called him by name and said something like, 'What's up Michael?'"

Then, he got to meet former KU player Nick Collison, who plays for OKC Thunder.
"Michael was on an all-time high. We were so appreciative of the Oklahoma hospitality. It was wonderful to show our kids that there are some very nice people in this world and we should give thanks."
Copyright 2018 The Lawrence Journal-World. All rights reserved. This material may not be published, broadcast, rewritten or redistributed. We strive to uphold our values for every story published.