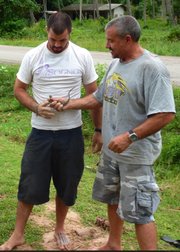 A Kansas University graduate student and his father know that new species of lizards can be found in a wide variety of places.
Even on the menu at Vietnamese restaurants.
An associate in Vietnam tipped him off, and sent Grismer photos and tissue samples.
Jesse Grismer, a Ph.D. student in KU's department of ecology and evolutionary biology, studies reptiles and amphibians, and has helped to classify between 35 and 40 new species, he estimates.
After receiving the photos and samples, he tested them for mitochondrial DNA and realized he was probably dealing with something new.
So he and his father, Lee Grismer, a biology professor at La Sierra University in Riverside, Calif., went to Vietnam, hopped on some motorcycles and went to the Ca Mau region on Vietnam's Mekong Delta.
They went to a restaurant that reportedly was serving the new lizard on the menu. But they'd found that the owner had sold his entire supply.
"I don't really blame him," Jesse Grismer said.
And, yes, he did eventually find time to eat some of the lizard. But he doesn't recommend it.
"It tastes like a mouthful of dirt when you're sliding into home plate, mixed with guts," he said.
They named the new lizard after the scientist and family friend in Vietnam, Ngo Van Tri. So now, he has his own lizard, Leilolepis ngovantrii.
Lee Grismer said he would take his son on trips to identify species while he was still in diapers. And he said he was extremely pleased that his son has decided to follow in his footsteps.
"As a father, and as a naturalist, it just doesn't get any better than that," the elder Grismer said.
And, after being fascinated by lizards since he tried to catch them by the pool as a young boy, Lee has passed on a love of discovering new species to his son.
The two of them have visited a number of places — the Baja California peninsula, Honduras, the Dominican Republic, Puerto Rico, China, Korea, Japan, Vietnam, Cambodia, Malaysia (more than 30 trips, Jesse said, to Malaysia alone), Borneo, Brunei and Singapore.
Reciting a favorite phrase of his father's, Jesse explained why the two of them go through all that trouble just to document "new" species to science, even if they've been eaten by the locals for hundreds of years.
"The cornerstone for conservation is taxonomy, which is the discovery and description of new species," Jesse said. "You can't conserve and protect what you don't know exists."
Copyright 2018 The Lawrence Journal-World. All rights reserved. This material may not be published, broadcast, rewritten or redistributed. We strive to uphold our values for every story published.