Photo Gallery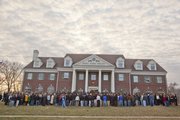 Memorial service for Jason Wren
Mourners gather at a memorial service Thursday for Jason Wren in front of the Sigma Alpha Epsilon fraternity house of which he was a member. Wren was found dead Sunday at the fraternity house after a night of drinking, his family has said.
Related document

Related document

A Douglas County judge Friday ruled the father of Jason Wren, a Kansas University student who died in 2009 from alcohol poisoning, could not seek punitive damages in a lawsuit against his son's fraternity.
"There was no involvement on the night of Jason Wren's death by anybody associated with the housing corporation or the national fraternity that caused or contributed to that death," said Michael Seck, an attorney representing the Sigma Alpha Epsilon Fraternal Association and Kansas Alpha House Corp.
But District Judge Michael Malone did decide that John Stacy, the president of the fraternity's housing corporation, which owns the chapter house, 1301 W. Campus Road, could be added as an individual defendant in the suit.
"We believe that he has the authority to make the decisions regarding the rules and regulations that are followed pertaining to alcohol consumption," an attorney Stephen Gorny representing Wren's father, Jay, said in court. "I know that he was aware that underage alcohol consumption went on in the house and did not ban it."
Wren, a 19-year-old KU freshman from Littleton, Colo., was found dead March 8, 2009, at the SAE house after a night of heavy drinking. His death was one event that put a spotlight on underage drinking on the KU campus.
In the lawsuit, Wren's family alleges fraternity members failed to seek medical help for their son despite his intoxication and a head injury. Wren had used a fake ID earlier in the night to drink alcohol at a restaurant. He then continued to drink beer and liquor later at the chapter house, according to the suit.
Wren was living there as a pledge after he violated KU's alcohol policy and was no longer allowed to live in a KU residence hall. According to the autopsy, Wren's blood-alcohol content was 0.362 percent, more than four times the legal limit to drive in Kansas.
Gorny has argued the SAE chapter has not changed its practices regarding underage drinking in the house since Wren's death and that Stacy has resisted calls from national fraternity officials to make it a dry house.
But Seck has said fraternity leaders were unaware of any prior problems with alcohol consumption by minors in the house before Wren's death. He has said the chapter has taken proper steps since March 2009 regarding prohibiting alcohol, including expelling nearly two dozen active members after an April 2010 alcohol violation.
Malone said the addition of Stacy as a defendant will delay future proceedings in the suit, including the trial originally scheduled for April.
Copyright 2018 The Lawrence Journal-World. All rights reserved. This material may not be published, broadcast, rewritten or redistributed. We strive to uphold our values for every story published.