Photo Gallery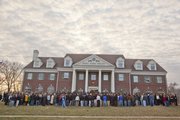 Memorial service for Jason Wren
Mourners gather at a memorial service Thursday for Jason Wren in front of the Sigma Alpha Epsilon fraternity house of which he was a member. Wren was found dead Sunday at the fraternity house after a night of drinking, his family has said.
Friends, family and fraternity brothers of Jason Christopher Wren remembered him as an intelligent, loyal person Thursday but asked the hundreds of attendees of a memorial service to not let him die in vain.
The front lawn of the Sigma Alpha Epsilon fraternity house was packed with shivering mourners during the cold March evening, remembering Wren, 19, who died Sunday at the house, 1301 West Campus Road, after a night of drinking, according to his family.
"Next time you have someone offer you a drink, say, 'In honor of Jason Wren, I put my drink down,'" his father, Jay Wren, of Littleton, Colo., said, shortly before unveiling a bumper sticker with a similar slogan.
He and others remembered a religious man — he had a tattoo of a cross on his back, his father said — and one who loved sports, music and smiling.
Patrick Stacy, the vice president of the local Sigma Alpha Epsilon chapter, said that though he knew Jason Wren for only a month or so, he remembered a smart, easy-to-talk-to, loyal brother.
"We must see all the positives we can," Stacy said, telling the crowd to look after friends who become intoxicated. "I urge everyone to use alcohol responsibly."
Kevin Munch, a friend who drove Jason Wren to lacrosse practice, stood alone after most of the crowd had dissipated, looking at his friend's picture on a card that had been distributed at the memorial.
"He hustled harder than anybody on the team," said Munch, a sophomore teammate wearing his lacrosse jersey, along with the rest of the squad. "He brought a sense of intensity. It's going to be hard going on without him."
Jay Wren called on the assembled crowd, and on fraternities in particular, to not be afraid to call for help if a friend was in need, and repeated his call for the fraternity to ban alcohol.
Brandon Weghorst, a spokesman for the fraternity's national organization, said an investigation into the incident is still ongoing, but so far, he said the organization has found no reason to believe there is any overall problem with the chapter. No social event at the chapter had been scheduled the night Jason Wren died, Weghorst said.
Jay Wren also criticized Kansas University for not letting him know the reason for his son's recent expulsion from the residence halls.
"I wish we had known," if Jason had alcohol problems at school, he said. "Parents should be allowed to know if there's a problem with our children."
Earlier in the day, Todd Cohen, a university spokesman, said that KU withholds student records from parents — including in situations where alcohol abuse is involved.
"What has been our philosophy is we want to create an atmosphere that the students be treated as the young adults they are," he said.
KU tries to strike a balance between privacy rights of students and the interests of parents, Cohen said, and encourages students and parents to discuss their rights at enrollment.
Though the law that governs such situations, the Family Educational Rights and Privacy Act, allows universities to release information regarding situations of underage alcohol abuse, KU, like many other universities, does not do so, Cohen said.
However, other universities, such as the University of Colorado and Colorado State, have chosen to release student records relating to alcohol abuse to parents, and Cohen said KU's policies are always under review.
Lawrence police and the coroner have not yet released results of an autopsy investigation into Jason Wren's death.
Copyright 2018 The Lawrence Journal-World. All rights reserved. This material may not be published, broadcast, rewritten or redistributed. We strive to uphold our values for every story published.