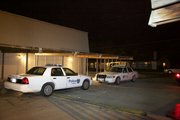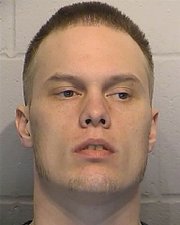 Area law enforcement officials are searching for a suspect involved in a shooting in Johnson County early Monday afternoon.
According to a media release from the Johnson County Sheriff's Office, the incident occurred about 12:30 p.m. in the 11400 block of West 106th Street in Overland Park. Deputies were serving a warrant when the suspect, Chad Michael Osborn, fled the scene driving a green 2000 Chrysler LHS four door car.
Upon fleeing the scene, Osborn attempted to hit deputies with his vehicle. The deputies fired at Osborn and believe he and his female passenger were hit and may seek medical attention at an area hospital.
Lawrence Police Sgt. Dave Hubbel said local police were asked to help contact associates of Osborn believed to be living in the 2400 block of Crestline Drive. Hubbel said as of Monday evening those attempts had not been successful.
Osborn is described as a white man about 6'3" tall and weighing about 220 pounds.
The investigation into the incident is ongoing.
Copyright 2018 The Lawrence Journal-World. All rights reserved. This material may not be published, broadcast, rewritten or redistributed. We strive to uphold our values for every story published.