Photo Gallery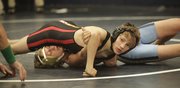 Eudora Wrestling Tournament of Champions
Eudora — The Lawrence High wrestling team placed 10th of 23 teams on Saturday at the Eudora Tournament of Champions. The Lions scored 148 points.
Other area teams were: Mill Valley, second; Baldwin, seventh; Tonganoxie, eighth; Eudora, 11th; De Soto, 15th; Wellsville, 18th; and Perry-Lecompton, 19th. Lansing won the tournament with 247.5 points.
Copyright 2018 The Lawrence Journal-World. All rights reserved. This material may not be published, broadcast, rewritten or redistributed. We strive to uphold our values for every story published.