Photo Gallery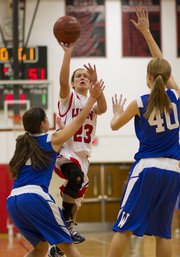 LHS girls basketball vs. Washburn Rural
When teams shoot poorly, coaches often point to bad shot selection or rushed attempts.
When the Lawrence High girls team shot seven percent from the field in the first half, coach Nick Wood told his relatively inexperienced team to just calm down.
The Lions picked it up after halftime and hung with the Junior Blues, only losing the second half by a point. Wood knows his team — which returns just three players with any varsity experience — is a work in progress.
"It was a new world for us," Wood said. "It's big-time varsity basketball out there. It's a little quicker and it just took us a while to get adjusted to that.
"It's part of the growth of who we're going to be as a team. Is that the way we wanted it to happen? No. But the way we battled in that second half is hopefully the team that we will become or start to be."
Wood wasn't pleased with the Lions transition defense on Friday.
"Apparently we need to do it more than we're already doing, because we couldn't figure out who we were guarding for the life of us," Wood said.
Seniors Emily Peterson, Rachel Kelly, Kelsey Broadwell, TaMiya Green and Kristen Bell started for LHS. Green led the Lions with 10 points.
The Lions play at Junction City at 7:30 p.m. on Tuesday.
Copyright 2018 The Lawrence Journal-World. All rights reserved. This material may not be published, broadcast, rewritten or redistributed. We strive to uphold our values for every story published.