Photo Gallery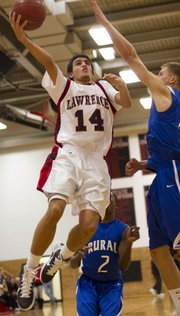 LHS boys basketball vs. Washburn Rural
It's pretty easy to figure out Washburn Rural's offensive strategy. All you need to do is glance at their post players.
Senior Jake Ediger is 6-foot-5. His brother Brandon is also 6-5. Sophomore Ryan Rowell stands 6-7. They were the three tallest guys on the floor, and maybe in the gym.
The Lawrence High boys basketball team simply didn't have an answer for the Junior Blues' height inside, falling 68-45 in its season opener on Friday at LHS.
"We were back on our heels and they just continually hammered it at us, and we didn't step up to try to control that," LHS coach Mike Lewis said. "They were on a mission to go at the basket and we didn't have anybody willing to step up and compete against them."
The three juniors Lewis expects to score the majority of the team's points — KJ Pritchard, Anthony Buffalomeat and Logan Henrichs — certainly did so on Friday. Pritchard and Buffalomeat scored 15 each and Henrichs added nine, accounting for 86 percent of the Lions' final total.
But none of the juniors were efficient from the field, hitting just 13 of their 39 shots combined. They were also five for 21 from behind the three-point line.
"Our biggest challenge tonight was trying to score with somebody on us," Lewis said. "If we sit in the gym and play some H.O.R.S.E., I think we're pretty good. But you put somebody who's a feisty defender on us, and we're not very good right now."
Pritchard said he knows Lewis will look to the trio all season long. They all started the game, along with senior Jake Johnson and senior Garrett Wagner.
On the defensive end, the Junior Blues' aggressiveness forced lots of Lion fouls underneath the basket. Jake Ediger finished with 21 points and his brother Brandon scored 11 off the bench.
"We just need to be more competitive in practice and bring it every day," Pritchard said. "We just have to be more physical with these big men. We've got a lot of big men in our league and we've just got to really step up on that part."
Washburn Rural set the tone early, racing out to a 19-11 lead at the end of the first quarter and extending it to 37-25 at halftime. Jake Ediger already had 15 points at the break, mostly coming on layups.
So will practice today at 10 a.m. be more physical than practices before Friday?
"Yeah, I have a feeling it might be," Buffalomeat said.
"It's going to be bad," Pritchard said. "But it's going to be competitive. We've just got to get more physical with all these guys."
The Lions play next against Blue Valley in the BV Shootout at 6:45 p.m. on Thursday.
Copyright 2018 The Lawrence Journal-World. All rights reserved. This material may not be published, broadcast, rewritten or redistributed. We strive to uphold our values for every story published.