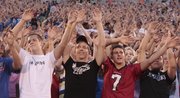 It's just threes, ones and a four.
That pesky fight song clapping sequence got a little easier with the help of an explanatory video that borrowed from the "Guitar Hero" video games. Still, several of the thousands of new KU students who showed up at Memorial Stadium on Monday night said they hadn't quite got it.
This year's annual KU Traditions Night used new videos to teach the crowd about the school's age-old traditions, often featuring those directly involved in the making of them.
So Hal Sandy told the thousands of new KU students how he drew his "Happy Jayhawk" logo that's been in place since a much angrier "wartime" Jayhawk was replaced in 1946.
And Amy Hurst, the first Baby Jay, told how her family created the original costume themselves after the university signed off on the idea but wouldn't fund it.
Basketball coach Bill Self and new football coach Turner Gill addressed the new Jayhawks to raucous applause.
"Jump in head-first," Self said, telling the students to get involved and attend athletic events, social events and — most importantly — their classes.
The waving of the wheat and the Rock Chalk Chant were all new to Meagan Kane, a sophomore transfer student from, of all places, the University of Missouri.
"I think this stuff is a lot cooler than the MU stuff," she said to the delight of her friends standing nearby. "I can't even remember the MU chant."
Kelsey Prince, an incoming freshman from Wichita, attended the event with three friends from her high school. She's really undecided on a course of study, but suggested that in the newspaper she be listed as majoring in business, just in case her parents are reading.
"I'm nervous for classes, but I'm really excited for the football games," Prince said after learning all about the new traditions. "(KU defensive end Jake) Laptad's my favorite. Maybe he'll add me on Facebook."
Copyright 2018 The Lawrence Journal-World. All rights reserved. This material may not be published, broadcast, rewritten or redistributed. We strive to uphold our values for every story published.