Photo Gallery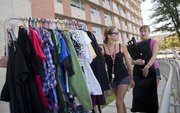 KU move-in day, August 2010
Thousands of new students can now call KU home. Sunday morning marked the official start of move-in day at the dorms. Throughout the day, moms and dads helped their sons and daughters haul in college living necessities such as televisions, shelves, clothes and school supplies.
"I realized what I forgot about halfway here, so we had to go to Target for a quick stop," Salina freshman Carley Bassemeyer said.
Bassemeyer and her mother, Connie Bassemeyer, made several trips to their car to retrieve armloads of items. Connie said it's not easy saying goodbye to her youngest child. "It's going to be sad because her and I have been pretty close," she said. "She's talented, and I'm going to miss her."
Parents did plenty of hugging and picture-taking as they said their goodbyes, some now facing an empty nest at home.
But many students expressed a sense of excitement as they stepped into their new world as college students. A Roeland Park student said she has mixed emotions, "I'm a little nervous meeting my new roommate and lugging all this stuff five stories up. It's a little hard, but it's OK," Chelsea Frederick said.
Earlier in the day the new Kansas University provost welcomed students, going dorm to dorm to say hello. Jeffrey Vitter stopped at Lewis Hall, Hashinger Hall, Douthart Scholarship Hall and K.K. Amini Scholarship Hall.
Classes at KU begin Thursday.
Copyright 2018 The Lawrence Journal-World. All rights reserved. This material may not be published, broadcast, rewritten or redistributed. We strive to uphold our values for every story published.