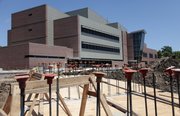 Two new buildings will open for the fall semester on Kansas University's West Campus. Each building, though serving different purposes, has been designed with the future of technology and business in mind.
Name: Pharmacy building (no official name yet, looking for donors).
How many people will work there: All faculty and staff from KU's School of Pharmacy, as well as more than 500 pharmacy students.
Purpose: It will be the main undergraduate and graduate facility for the School of Pharmacy. It will also serve an important role in campus outreach, including with the KU campus in Wichita, where a new pharmacy program is being launched, and across the United States.
Cost: $45 million.
Who paid: The state of Kansas general fund.
Interesting: Because of the size of the new building, the School of Pharmacy is now accepting 150 students a year compared with just 105.
"With the shortages of pharmacists in Kansas we're certainly making efforts to address that issue with the new building. It certainly will also advance our abilities to provide education not only for now but well into the future," said School of Pharmacy Dean Ken Audus.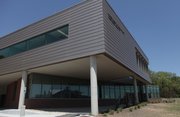 Name: Bioscience and Technology Business Center
How many people will work there: Will depend on the size of companies and number of people. In the first phase, six to eight companies will work in the building.
Cost: $7.25 million.
Who paid: The Kansas Biosicence Authority, Lawrence-Douglas County Bioscience Authority, City of Lawrence, Douglas County and Kansas University.
Purpose: To provide support and space for growth to technology businesses, especially bioscience companies, ready and state-of-the-art infrastructure, access to capital and access to expertise and research at KU, as well as access to business education and networking in the Lawrence area.
Interesting: KU students and professors, as well as area business leaders, will have the opportunity to assist growing businesses with research and advice.
"This is a long-term economic development project. You don't create immediate results with a project like this. What you are trying to do is create an entrepreneurial center, a hub of activity of bioscience and technology companies that are growing and prospering in this community and hopefully we have a cluster of those companies over time that again are creating jobs and adding to the tax base of community creating wealth and creating capital here, which are all good things for the community and the University," said Matthew McClorey, president and CEO of Lawrence Regional Technology Center.
Copyright 2018 The Lawrence Journal-World. All rights reserved. This material may not be published, broadcast, rewritten or redistributed. We strive to uphold our values for every story published.