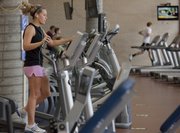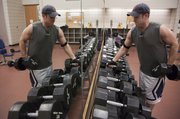 Fitness Center basics
1740 Watkins Center Drive
864-3546
Hours:
Monday-Thursday 5:30 a.m. - 10 p.m.
Friday 5:30 a.m. - 8 p.m.
Saturday-Sunday 9 a.m. - 7 p.m.
The Ambler Student Recreation Fitness Center can get more than 5,000 Kansas University students walking through its doors in a day sometimes.
Though many of those students are likely taking advantage of the free workout equipment, there's more to the place than it might seem, said Mary Chappell, director of KU's recreation services.
"We'd like to think we have something for everyone," Chappell said.
That includes the large cardio and resistance training areas, the gymnasium and the indoor track. There's also the hockey rink and martial arts studio, in addition to other areas like the large rock climbing wall.
Personal training services are available, too. The building even includes a bike repair shop and a service for university students and staff to check out outdoor camping equipment.
"What we're trying to do here is provide you with a healthy lifestyle," Chappell said.
That concept even extends outside the building, which features outdoor basketball courts, sand volleyball and tennis courts and even a more aesthetic feature — a rain garden and 2,000 native plants.
About the only service the Ambler center doesn't have, Chappell said, is aquatic facilities — students need to walk over to nearby Robinson Gymnasium for that.
Copyright 2018 The Lawrence Journal-World. All rights reserved. This material may not be published, broadcast, rewritten or redistributed. We strive to uphold our values for every story published.