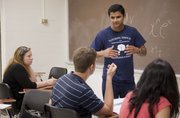 For those interested in tutoring help at Kansas University, a wide variety of options are available.
Kristin Scott, associate director of KU's Academic Achievement and Access Center, outlined just a few, including peer group tutoring.
For a $75 fee per semester, four students are matched with one tutor in a subject area and meet regularly with a tutor in an assigned space, which can be a KU classroom.
Fee waivers are available for students who qualify financially, Scott said.
"The group setting has many benefits," Scott said. "They can learn from one another … and two of the students may have similar questions."
The tutors are KU students who have earned a B or higher in the course they're tutoring, or in a higher-level course in the same discipline. They also undergo a rigorous interview process, Scott said.
The center also offers tips on forming good study habits, managing time and other skills that can help students succeed academically.
Other basic math and writing tutors are available for one-on-one help — students can visit designated areas and get assistance.
Often staff members of one particular tutoring assistance group can refer students to others that may better suit their needs, Scott said, so students seeking assistance should ask questions and let staff members know what kind of help they're looking for.
"Certainly, there are a number of different options," she said.
Improvements in tutoring
Though KU offers tutoring from a variety of sources, tutoring help is one of the areas targeted for improvements in a task force convened by Chancellor Bernadette Gray-Little to address retention and graduation rates.
The task force addressed some potential ways tutoring could be improved at KU. Task force members' recommendations included:
Increased resources for tutoring and department/discipline help rooms. Focus on courses that contribute to poor retention.
Consider a proactive approach to tutoring that engages at-risk students at the beginning of the semester and provides a range of tutoring options that encourages all students to make a commitment to academic success.
Develop a coalition of all academic support programs with a central website.
Consider developing a learning center that incorporates support for various courses.
Consider developing online study skills courses.
— Source: Chancellor's task force report
Copyright 2018 The Lawrence Journal-World. All rights reserved. This material may not be published, broadcast, rewritten or redistributed. We strive to uphold our values for every story published.