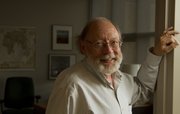 Don Worster bounces around a lot. He's traveled to Scotland, China, England, the Netherlands, as well as many spots in the United States. And the list keeps stretching.
Extensive travel is a part of his profession: after penning seven books, several on the emerging field of environmental history, Worster, a Pulitzer Prize nominee and Hall professor of American history at Kansas University, is an authority on the subject and is frequently asked to speak at conferences.

Born in Needles, Calif., Worster wasn't always so worldly. Uprooted from the Golden State before entering kindergarten, he was raised in Hutchinson during a time when its population was bloated, its economic condition swelling from salt and grain, making it one of the biggest cities in Kansas. Worster's parents, though, were a working class people. His dad was an auto dealer, his mother a housewife. Money wasn't nonexistent, but its flow was faint.
The contrast from Worster's upbringing to his adult life is distinct. Charles Darwin, one of his defining influences, was considered something of a devil to the people he grew up with. And though a scholar who has achieved great heights, Worster's parents had little education: his mother didn't graduate high school.
"I have a respect for the people there," Worster said. "I think they're very warm and generous, but their view of the world was extremely limited and uninformed."
Worster describes his parents as gentle, not authoritarian or strict, but staunch churchgoers nonetheless. His mother, a member of a fundamentalist Protestant church, would take Worster to the chapel with her on Sundays. Worster's spiritual faith, however, was not enduring.
"I'm free of all that," said Worster. "I won't say KU corrupted me at all, but it opened my mind to a lot of things (my mother's) generation couldn't understand."
And even before college, Worster's parents' lack of collegiate exposure didn't deter him from learning. From an early age, Worster's interest in academia began to manifest. At the age of 5, he would trek to the library to fetch stacks of books, devouring one a day during the summers until he turned 20. His affinity for reading and writing remained consistent throughout graduate school and is still present now.
Initially, Worster was interested in studying English. He had been proficient in the craft during high school, showing an interest in theater and drama. Time in college, though, caused him to totter over toward history. He took course after course until deciding to switch majors.
After KU, Worster went on to Yale University, earning his doctorate in 1971. His time there was some of the most decisive of his career. It was the place he formed many, if not most, of his professional ideas. At Yale there was a growing environmental movement whirling around him, a brimming public interest in climate change and conservation.
"All of that ended up influencing me as much as my history courses," said Worster.
At Yale, Worster began to ponder how he could combine his interest in the environment with his penchant for history.
"I started to ask, What can I do with all this as a historian?" Worster said. "I was driving without knowing where I was going, trying to put these things together. What I ended up doing was not even taught at Yale at the time."
Worster was a pioneer, a shaper of a course now known as environmental history, a hybrid study that looks at how humans have manipulated the environment in a historical way.
His first book, "Nature's Economy," became a principal text on the subject. A lot has happened since the '70s, though, and when asked about the progress of today's green movement, Worster offers a rich response:
"A lot of people in this country had the benefit of an incredibly beautiful and abundant land for a long time," Worster said. "Many of them deeply resent the fact that it's not there anymore. We are not in the same place we once were. We are facing limits ... and we have to accept these limits."
Offering a colorful analogy, Worster compares resistance to conservation to that of a man rebelling when his wife tells him to pick up his own dirty linen, only much more serious. He believes regulations on resource consumption, guidelines to keep humans from exploiting fossil fuels and soil from beyond repair, are a necessity.
"I would like the United States to go back and resume its leadership on the global and environmental situation," Worster said.
Currently, Worster spends his summers writing and lecturing, but during the school year, he is tucked behind a lectern at KU.
"Don was and is a masterful lecturer. His voice is rich and his pace is measured, but there is always a clarity and sense of drama to his lectures," said Paul Sutter, a former student of Worster's, who is now a professor at the University of Colorado. "I have modeled a lot of my approach to teaching after Don, and I made good use of my lecture notes from his course when I first put together an environmental history course of my own."
Copyright 2018 The Lawrence Journal-World. All rights reserved. This material may not be published, broadcast, rewritten or redistributed. We strive to uphold our values for every story published.