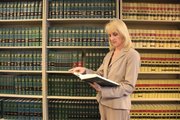 Jo Hardesty realizes Kansas University's Legal Services for Students isn't as well-known as it could be.
"We do have an awareness problem," said Hardesty, the service's director. "Particularly because we're just a tiny little office on campus."
That office, on the third floor of the Burge Union, doesn't get a lot of passers-by. On one hand, that means not as many people know where they are.
But on the other, that's not necessarily a bad thing either, Hardesty said.
That's because her office provides legal services and advice for KU students — meaning not everyone walking in the office's front door would necessarily want their friends or roommates knowing they were getting legal advice.
That advice and representation comes largely free of cost, thanks to an annual fee all students pay. The fee is relatively small for what students get — it's $10 per semester, and $5 per semester in the summer. Students don't need to be full time, either, to take advantage of the service.
Hardesty and four other attorneys staff the office, along with a small handful of law students.
Court representation is mostly done in landlord-tenant disputes, Hardesty said.
"You've got 20,000 people signing 20,000 leases," she said. "Landlord-tenant cases are probably one of the biggest things we do."
The office also frequently helps students with their tax returns.
They give presentations throughout the KU community on issues like knowing alcohol laws (some students don't know, for example, that it's probably not a good idea to wander the streets with a can of beer in hand, Hardesty said).
Other presentations show students how to properly use their rights, Hardesty said. DVDs show students that just because a police officer asks to come into a house where a party is going on, doesn't mean they have to be necessarily invited in.
The office tries to educate students and prevent bad behavior from occurring again, Hardesty said.
"We try to give them information they can use in the future," she said. "We want our students to leave here at KU and become gainfully employed out in the world."
Copyright 2018 The Lawrence Journal-World. All rights reserved. This material may not be published, broadcast, rewritten or redistributed. We strive to uphold our values for every story published.