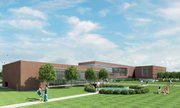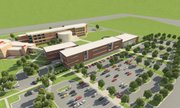 The bronze jayhawk sitting in front of the Kansas University Edwards Campus's Regnier Hall is just a little smaller than its Lawrence campus counterpart.
Vice Chancellor Bob Clark says that it doesn't matter.
"We are KU," Clark said.
And KU is growing. An expansion project on the Edwards Campus that broke ground back in April is moving forward according to plan. The construction is scheduled for completion by spring 2012.
When the $25 million project is finished, the campus will boast three buildings instead of two and will be able to accommodate more than 1,000 additional students, a significant step up from the estimated 2,000 currently enrolled.
The new building will house business, engineering, science and technology degree programs, and is appropriately named BEST. The 75,000-square-foot building will also have lecture halls, computer labs and a conference center.
"The new students are excited about the possibilities here," Mary Ryan, associate dean of academic affairs, said. "For many, it's living a dream. We want them to feel they're a part of KU. We've been working to accomplish that."
Students who graduate after taking courses in the BEST building will also have a good chance of landing a job in the neighboring communities.
Clark said Edwards Campus staff members did a copious amount of research before deciding what programs the new building would hold. The four that were chosen represent thousands of job opportunities in the current market.
"It might not seem like that many," Clark said. "But it's a couple thousand jobs looking for people with these skills and training programs. We can offer it to them."
The new programs will be taught by additional faculty members that will be hired. Many new faculty members will be employees from the Lawrence campus.
The community has been fully involved in the project process as well. The multi-million dollar building is being financed with a dedicated sales tax that was approved by Johnson County voters two years ago.
"It really goes to show how much the community values education," Ryan said.
Johnson County Community College and faculty from the KU Lawrence campus were among others who played a role in the project's planning and development.
As progress is made toward opening the BEST building, classes on the Edwards Campus will slowly move out of the current classrooms and into the new ones.
"We have the means and the plan to make a smooth transition while the building is completed," Clark said.
Clark said the relationships that have been fostered by the local and academic communities are what has made the entire project possible.
"We're going to keep looking forward," Clark said. "We'd like to see it finished. It's preparing people for what this area needs."
Copyright 2018 The Lawrence Journal-World. All rights reserved. This material may not be published, broadcast, rewritten or redistributed. We strive to uphold our values for every story published.