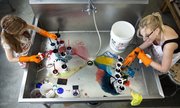 By the numbers
Total students enrolled in summer classes the last 10 years:
2009: 8,852
2008: 8,859
2007: 8,743
2006: 8,960
2005: 8,969
2004: 9,272
2003: 9,078
2002: 9,225
2001: 8,898
2000: 8,877
In an effort to increase enrollment, Kansas University undertook a campaign this year to highlight summer class offerings.
Students frequently take advantage of the summer as a time to catch up on a course or two, freeing up space for the next semester, or to keep them on schedule to graduate.
Looking to improve on last year's enrollment figures — when 8,852 students took summer classes — KU's department of Continuing Education decided to educate more students about summer school options.
"If students can't find a job for the summer, or if they're just going to be stuck in Lawrence, summer school might be a good opportunity for them," said Jim Peters, associate director of Continuing Education.
The offerings aren't limited to just the Lawrence campus. A website, jayhawksummer.com, pointed students to online and correspondence courses that could be taken during the summer and to other enrollment options.
The campaign used banners on street poles, multi-media, print and radio ads and flyers to help promote the cause.
KU also mailed postcards to its incoming freshmen to alert them to the possibility and benefits of taking a summer class. Transfer students were also contacted.
Peters said it was too early to tell if the campaign was successful — as of the KU Edition's press time, summer 2010 enrollment figures had yet to be released — but signs were hopeful, he said. The Edwards Campus in Overland Park also offers classes for students who may be going home to Johnson County for the summer.
"We try to at least make as many Lawrence students as possible aware of our programs," said Bob Clark, vice chancellor of the Edwards Campus.
At the Edwards Campus, the summer school offerings are mostly liberal arts elective courses.
Undergraduate summer courses have only been taught there for about 10 years. Getting Lawrence campus faculty members to agree to come teach sections at the Edwards Campus has required some relationship-building, but it's paid off in the end, Clark said.
Encouraging students to take classes in the summer — and making more sections available — would likely mean improved graduation rates, which is one of Chancellor Bernadette Gray-Little's stated goals for KU, Clark said.
Copyright 2018 The Lawrence Journal-World. All rights reserved. This material may not be published, broadcast, rewritten or redistributed. We strive to uphold our values for every story published.