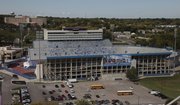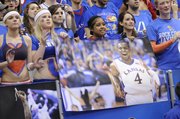 Last year, Kansas Athletics established a junior version of its popular and profitable fundraising program, the Williams Fund, and so far the results are better than expected.
The Williams Fund is an annual-fee membership club that has more than 4,200 members. It raises more than $8 million each year. This money is used to support more than 550 student athletes through scholarships and by helping fund the athletic program.
"To be honest, as a student athlete, I wasn't familiar with the Williams Fund and how it raises money for student athletes," says Banks Floodman, a former KU linebacker who now works as a development associate for the Williams Fund. "After I graduated, I was disappointed that I hadn't been able to participate."
He was disappointed because KU's season ticket sales are organized on a points-based priority system. Fans with the most points get first dibs on tickets when they go on sale. And the way you get points is to contribute, such as being a member of the Williams Fund.
"You receive one point for donating to the Williams Fund," says Jim Marchiony, associate athletic director. "Every $100 donated earns one point. These points build up year after year. The higher your point total, the earlier you can select your seats."
That's fine if you're an alumnus with a six-figure salary.
But what if you're a sophomore living on Ramen noodles and store-brand cereal?
"Students don't usually have the money to donate," Floodman says. "So when I came back to KU to work for KU Athletics, I proposed starting a Junior Williams Fund. This program lets students accumulate points for donations that are not as high."
The top brass at KU Athletics immediately got behind the idea.
"It was a no-brainer," Marchiony says.
Students pay just $25 each year to be a member. In exchange, they receive 10 permanent points for their personal account — the equivalent of a $1,000 donation for alumni. If they join the Williams Fund after they graduate, they receive an additional 20 permanent points.
"I knew that I wanted to continue to be involved with KU athletics after I graduate," says Traci Baar, a senior who was one of the first to join the Jr. Williams Fund. "For Jayhawk fans, everybody wants to be part of the atmosphere. And the best way to be part of the atmosphere is to contribute and get season tickets."
The new program began last year, and it has exceeded expectations.
"At first, I was shooting for 500 or 600 members," Floodman says. "We got 700 the first year. We will exceed expectations again this year.
"This program is important because as our donor base is getting older, we need to develop a relationship with our younger generation. This allows kids to get involved."
Full-paying members of the Williams Fund aren't at all upset by the reduced rates offered to students, Floodman says.
"All of the response has been very positive," he says.
That's because it not only helps financially, Floodman adds — it helps make KU Athletics more exciting.
"The spirit in Allen Fieldhouse and Kivisto Field at Memorial Stadium is due in large part to the student body," he explains.
There are few other similar programs in the country, Floodman says. Two examples of other schools that offer reduced-rate plans for students are Texas Tech and North Carolina.
"It's been tremendous for both of them," Floodman says. "I think people are really starting to catch on to it."
Based on the excellent first year, Floodman expects just as good of results here in Lawrence.
"We know already that Kansas fans are among the most loyal in the country," he says. "What we're seeing is that loyalty beginning long before our fans graduate from KU."
Copyright 2018 The Lawrence Journal-World. All rights reserved. This material may not be published, broadcast, rewritten or redistributed. We strive to uphold our values for every story published.