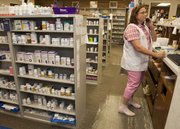 Health Center basics
Hours — during the school year
Monday-Friday: 8 a.m. to 8 p.m.
Saturday: 8 a.m. to 4:30 p.m.
Sunday: 12:30 to 4:30 p.m.
Appointment Line: 864-9507
Nurse Helpline: 864-9583
Pharmacy: 864-9512
Students looking to get healthier — mentally, physically and nutritionally — have an available resource on campus at the Watkins Health Center.
Students can take advantage of many services for a less expensive cost than in the private sector, said Mai Hester, Watkins marketing coordinator.
For example, there's no charge for a doctor's office visit, nor is there a limit on how many visits a student can make.
Each student pays $107.80 in fees to the health center each semester — about a quarter of their overall fees.
The general appointment line for the center, 1200 Schwegler Drive, is 864-9507.
Hester said students shouldn't come to the clinic for emergencies or for inpatient care. It's best to call 911 or go to Lawrence Memorial Hospital for those services, Hester said.
Sometimes, a private physician's services can be combined with services at Watkins, like X-rays or lab tests.
Though the clinic is mostly for students, KU faculty and staff may take advantage of some services, including:
Allergy injections
Immunizations
Lab tests ordered by a physician
Pharmacy
Physical therapy as ordered by a physician
Radiology/X-rays
Travel Clinic
Wellness Resource Center
Copyright 2017 The Lawrence Journal-World. All rights reserved. This material may not be published, broadcast, rewritten or redistributed. We strive to uphold our values for every story published.