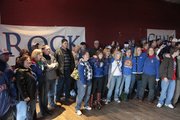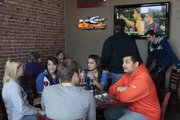 Travel outside of Kansas wearing a Jayhawk shirt and a random "Rock Chalk Jayhawk" will likely be shouted your way. But where will you meet the most former Lawrence residents?
Chicago is home to the largest alumni population and the largest KU Alumni Association chapter outside of Kansas, says Danny Lewis, assistant director of alumni programs. The city is home to almost 9,000 former Jayhawks, with about 900 of them affiliated with the area chapter.
Will Cook, president of the Chicago chapter, said there is a simple reason he tries to keep people actively engaged.
"I think it's important to keep that alive, to keep everyone remembering and reminiscing about their time on the hill," he said.
Cook, a 2001 graduate, spends most of his time working to support that involvement. He travels to watch parties at the three KU bars around the city. He organizes events such as trivia nights, racetrack days, career nights, happy hours and concert outings. And he tries to get as many people involved via the chapter's Facebook page, Chicago Chapter of the Kansas Alumni Association.
"I try to make us as visible as possible," he said. "I think that's the most important thing I can do. If we're visible, if we're planning events, people are more apt to come out."
Lewis said the alumni organization tries to expand programming to include all interests and not just limit alumni functions to sports. While watch parties are popular, he said, events such as teaching kids bike safety in the Chicago suburbs and doing an "Amazing Race"-like competition are in the works to attract alumni who might not be as into football or basketball.
"We're really trying to reach out and make sure we're not leaving any stone unturned in regards to alumni," Lewis said.
Most of all, though, having an active alumni group is about networking and keeping in touch with people who have a similar background.
"It's KU folks helping KU folks," Lewis said. "If you move to an area, you can get help."
Cook said he grew up in Chicago, but many people who moved there after graduating from KU didn't, and the group was a great way for people new to the area to meet people and learn about the city. He's now in the process of developing a place just for Jayhawks — a KU bar that will be decorated with only KU paraphernalia and will focus only on the school. He said he wants KU to compete with all the other schools that have a presence in Chicago.
He wants to give Jayhawks a home away from Lawrence.
"I think KU is such a special place, and obviously everyone who goes there, that's how they feel," Cook said.
Copyright 2017 The Lawrence Journal-World. All rights reserved. This material may not be published, broadcast, rewritten or redistributed. We strive to uphold our values for every story published.