About this series: This is the eighth in a series of previews of Kansas University's football team by position.
It's not uncommon for Kansas University assistant coach Aaron Stamn to pull his players aside at practice to quiz them on defensive football.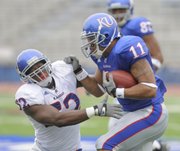 Stamn, though, is the tight ends coach. And none of his players has taken a snap on defense in college.
"At first, they kind of looked at me like I might have been a little bit crazy," Stamn said, "but it helped them understand how to play, because they knew what was going on in front of them."
Stamn has been a coach for 10 years now, with half of his experience coming on defense and the other half coming on offense.
Over that time, he has learned that guys tend to play a lot faster if they understand how defenses are trying to stop them.
"I challenge them every day to be a smarter player than they were the day before," Stamn said. "It's just like when you go to college and you go to class, your teachers ask you to go home and study. It's the same thing for us. Just ask them to be consistent and be good students of the game, and they'll get on the field."
Stamn said that he was fortunate this year in that he had a smart group tight ends, including junior Tim Biere, who caught three passes for 56 yards and a touchdown in the spring game.
Stamn said he was impressed by Biere's ability to catch a pass in traffic while using his body to shield away smaller defenders.
"I really think Tim is going to sneak up on some people," Stamn said. "I'm really looking forward to watching him in the fall."
Biere also has been one of the most dependable tight ends in practice.
"If he makes a mistake, you pretty much know it, because he doesn't make a whole lot of them," Stamn said. "He will be a good leader for us for the next couple of years."
Junior A.J. Steward is learning on the job after transitioning from receiver to tight end a week after spring ball began.
Stamn said that, without a doubt, Steward was the fastest tight end with whom he'd ever worked.
"He's got a fun skill set to work with as a coach, because he can do a lot of things very easily," Stamn said. "It's just the mental aspect of it, which he's catching up with."
Not only can Steward extend the field with his speed, he also has earned the reputation of being a good blocker. In fact, it was his block that freed up running back Angus Quigley for a 25-yard gain in the spring game — the longest run of the day.
"He can get out to the edge, and he can get some pathways going for the running backs," Stamn said. "When we do things correctly in the running game, that can open himself for some bigger shots down the field, too, and some play-action things. I'm really looking forward to watching him play, too."
Bradley Dedeaux, a 6-foot-3, 252-pound native of Midwest City, Okla., is the only senior in the group. Stamn said the three-year letterman is one of KU's most powerful tight ends.
"I really hope he can get on the field a whole lot this year, because he's another guy that I've been very impressed with," Stamn said. "He tries to do the right things all the time."
Meanwhile, Stamn said that Ted McNulty — a 6-foot-5, 230-pound junior — was one of the best tight ends during drills in practice.
"Ted is outstanding with everything technique-wise," Stamn said. "I'll put it this way: If Tim or A.J. or somebody were to get hurt, I don't question those guys going into the football game, because what they proved in the springtime is that they could handle everything we threw at them, and they did it well."
KU also has added true freshmen Trent Smiley and Jimmay Mundine to the tight-end position this fall.
Copyright 2017 The Lawrence Journal-World. All rights reserved. This material may not be published, broadcast, rewritten or redistributed. We strive to uphold our values for every story published.