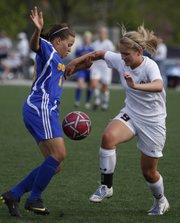 For 78 minutes of its Tuesday-night matchup with visiting Olathe South, Lawrence High's girls soccer team left little to be desired.
Unfortunately for the Lions, prep soccer games in Kansas span 80 minutes.
A momentary late-game breakdown on the part of LHS allowed Falcons midfielder Perri Mulder to break free and net the game-winning goal with 1:28 remaining in the second half, breaking a scoreless tie and handing the Lions a 1-0 loss.
"I was just speechless," said Lawrence High senior Olivia Dykes of the Falcons' goal, which dropped the Lions to 2-7 this season. "... We just let down."
In the end, the lapse spoiled an otherwise promising outing from the Lions, who have struggled through a six-game losing streak after opening the season with a 2-1 record.
Lawrence High appeared to be in control for a good portion of Tuesday's game, particularly during the final few minutes, when, with the game still scoreless, the Lions narrowly missed out on a pair of scoring opportunities that would have given them the lead and a chance for their first victory on their new state-of-the-art field.

Instead, Mulder's goal represented the latest road bump in what has been a difficult recent stretch for Lawrence High.
"We only had one breakdown," junior Kendyll Severa said, "and they just happened to take advantage of it."
Following the game, LHS coach Matt Anderson talked about progression, and how his team has been steadily improving despite its recent struggles. He pointed out the still-positive attitudes among his players, and how they're fighting for 50-50 balls with some ferocity and how all of that bodes well for the future.
What the Lions need now, Anderson said, is some good old-fashioned execution.

"We have such good chemistry off the field, you just want it to translate onto the field," he said. "I'd love to see a couple more smiles — that would be nice."
"(But) once that switch flips," Anderson added, "we're going to be tough to beat."
Copyright 2018 The Lawrence Journal-World. All rights reserved. This material may not be published, broadcast, rewritten or redistributed. We strive to uphold our values for every story published.