New York — Doron Lamb wasn't about to spoil the surprise.
Though the 6-foot-4, 183-pound guard already has decided on a college to attend next season, he wasn't about to give away his secret during Thursday's media day at the Jordan Brand Classic.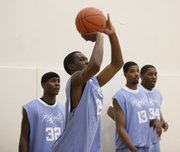 "I'm not going to say anything about any schools," Lamb said with a smile. "You'll have to see Saturday night."
Lamb (No. 21 overall according to Rivals.com) and Josh Selby (No. 4 overall) — two players with KU on their short lists of potential schools — will announce their college choices during first-half media timeouts at the Jordan Brand Classic game. The contest will begin at 7 p.m. Saturday at Madison Square Garden and will be televised on ESPN2.
Selby, whom many recruiting experts believe has a heavy Kansas lean, said Thursday that he hadn't officially decided on a school yet.
"I'm trying to cut the schools down, but it's so hard," Selby said. "I'm waiting for my mom and my uncle to come up here Saturday. We're supposed to sit down and talk about every school."
The 6-foot-3, 185-pound guard from Baltimore listed his finalists in this order: UConn, Arizona, Tennessee, Kansas and Kentucky.
"I don't know who it's going to come down to, because all the schools have a lot of positive and negative things about them," Selby said, "so I don't know yet."
Selby would appear to be a good fit for KU, as the Jayhawks are losing All-American guard Sherron Collins to graduation.
Thursday, Selby said he didn't consider himself to be similar to one-year college players like John Wall and Derrick Rose.
"I don't see myself as them, because right now, I don't look at me as one-and-done," Selby said. "They were one-and-done in high school.
"That's the way I humble myself. I think I lack everything. You're always working on every part of your game."
As for Lamb, he offered only a few hints as to which college he would choose.
"I wanted to go to a school that had the right program, a winning program, a winning coach," Lamb said. "Somewhere I could play right away at. Just (a place) that felt like home to me."
Lamb — his finalists are UConn, Arizona, Kansas, Kentucky and West Virginia — has not alerted any coaches of his decision.
The Laurelton, N.Y., native said he had talked with Selby.
"I don't know where he's going. He doesn't know where I'm going," Lamb said. "We both have to wait and see where we're going Saturday. We've just got to wait."
There have been some rumblings about KU perhaps having a chance at Terrence Jones, a 6-8 forward and the 13th-ranked overall player, according to Rivals.com.
Jones was asked Thursday whether KU was in his mix of schools.
"I won't really know until after this (Jordan Brand Classic) is over," Jones said. "I haven't really started my recruitment over. It's been on pause."
Rivals says Jones is considering Kentucky, Oklahoma, Oregon, UCLA, Washington, Arizona and Kansas.
Jones talked with KU coach Bill Self before the first signing period ended.
"He's a great coach," Jones said, "with a great program."
Copyright 2018 The Lawrence Journal-World. All rights reserved. This material may not be published, broadcast, rewritten or redistributed. We strive to uphold our values for every story published.