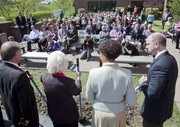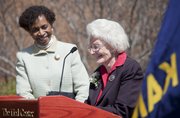 A soon-to-be expanding Lied Center provided the backdrop Thursday for Kansas University leaders to celebrate contributions to the effort.
The Lied Foundation Trust contributed $2.5 million for the expansion, the latest in a long string of charitable causes for the foundation, which provided $10 million that supported construction of the $14.3 million Lied Center, which opened in 1993.
Now, the Lied Center's lobby area and office space will expand, and an educational pavilion will be added. In addition to the Lied Foundation's $2.5 million contribution, the William T. Kemper Foundation has donated $300,000 toward the work.
The sole executor of the Lied Foundation Trust is Christina Hixson, a native of Clarinda, Iowa. She has overseen distribution of millions of dollars to support the arts and to provide opportunities for children who may not be able to pursue a college education because of financial hardships or other life challenges.
At Thursday's ceremonies, she said that the work done at KU through the Lied Center had helped introduce a whole new generation of people to the arts.
"Everything we've done here has been just that," Hixson said. "A people investment."
The foundation has supported those investments both at KU and beyond. The foundation helped build a similar performing arts center in Nebraska that also carries the Lied family name. In Hixson's native Iowa, she's established a scholarship program that allows one student from every county to attend Iowa State University.
Hixson was a business associate of Ernst F. Lied, who owned a Buick dealership in Omaha, Neb., before becoming a Las Vegas real estate developer. Lied, who attended KU in the 1920s and played on the golf team, took Hixson to business meetings and relied on her instinctive judgments of people. When he died without any living relatives, Hixson became the executor for his trust, which was established in 1972.
Thursday, KU Chancellor Bernadette Gray-Little praised Hixson's vision, and said that the size and the quality of the Lied Center had surprised her when she arrived on campus last year. She called it a "prime example" of how private donations could impact a university.
"There might have been times in the past when private donation would've seemed like icing on the cake for a university," Gray-Little said. "But now it is the cake. It is the bread and butter along with other sources of income. That's one of the reasons we're celebrating this because this means so much to us."
Hixson, who never got the chance to attend a four-year university, has sought out ways to fund the college education of others.
At KU, using $5 million from the Lied trust, she has set up the Christina M. Hixson Opportunity Awards, which give $5,000 annually to students who qualify. Recipients must be Kansas high school graduates who demonstrate financial need and qualify academically to KU. The program will eventually help 40 KU students.
Some of the Hixson scholars were in attendance for the Lied Center groundbreaking on Thursday.
Kim Moore, a KU junior from Baldwin City, is majoring in Spanish and international studies, and hopes to go to graduate school. She said the award meant a great deal to her.
"I think it's amazing. There aren't a lot of people out there who are willing to just give somebody $20,000," Moore said. "A promise of that much money is just huge, and she's changing the lives of people every single day."
Copyright 2018 The Lawrence Journal-World. All rights reserved. This material may not be published, broadcast, rewritten or redistributed. We strive to uphold our values for every story published.