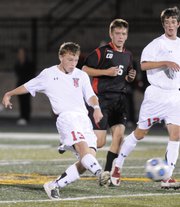 You can't win without goals, and Lawrence High's boys soccer team is clearly in a scoring drought.
Blue Valley West handed the Lions their third straight shutout loss Monday night, parlaying a pair of second-half goals into a 2-0 victory at the LHS football facility.
"It's a combination of things," Lions coach Matt Anderson said of the shutouts. "We're in a tough run of the schedule, and we're not creating enough, not getting enough people in the right places."
A couple of weeks ago, the Lions were on a roll. They had belted Shawnee Mission North, 5-0, and had played to a 1-1 draw with Olathe North.
Then they were blanked 5-0 by crosstown rival Free State and have been in a downward spiral ever since.
"That game got into our kids more than I'd like to admit," Anderson said.
After the loss to the Firebirds, the Lions bowed to Olathe Northwest, 4-0, so they've been outscored, 11-0, in their last three outings.
On a more positive note, the Lions played the Jaguars dead-even in the first half.
"Our organization in the first half was probably the best it's been all year," Anderson said. "But we got a little rattled in the second half. We had a good first half against (Olathe) Northwest, too, but we can't put together 80 minutes at this point."
Blue Valley West outshot the Lions, 15-4, and had five corner kicks. LHS had none.
The three-game skid has the Lions with a 2-5-1 record at the midpoint of the season.
"On paper, our schedule is easier the rest of the way," Anderson said. "Our goal is to get as good as we can be before the regionals."
Lawrence will return to Sunflower League competition at home tonight against Olathe South.
Copyright 2018 The Lawrence Journal-World. All rights reserved. This material may not be published, broadcast, rewritten or redistributed. We strive to uphold our values for every story published.