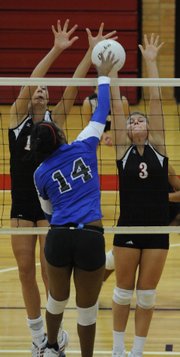 If there's any truth to the notion that the regular season prepares you for postseason play, the Lawrence High volleyball team should be ready for anything by the time state rolls around.
That's because the Lions saw it all Thursday night at their first home quad of the season.
Despite losing the first set in all three matches, LHS regrouped in time to finish the night 2-1. The Lions knocked off Leavenworth in three sets — 28-30, 25-20 and 25-15 — to open the night and lost to perennial powerhouse Olathe South — 20-25 and 25-27 — to close the night.
In between, they played the match of their young season in coming from way behind to knock off Mill Valley, 16-25, 31-29 and 25-15.
"That's huge," LHS coach Stephanie Magnuson said. "For them to battle like that and not just play it safe this early in the season is awesome."
After losing the opening set to the Jaguars in uninspired fashion, the Lions completely changed the tone of the match with better energy, effort and enthusiasm in the second set.
"I'm not sure what it was," junior Lillian Schonewise said. "But we just clicked."
And most of the time, the sound at the end of that clicking trigger was a blast delivered by Schonewise. She led the Lions in both kills and blocks on the night and played several stretches where she was virtually unstoppable.
True to this team's form, Schonewise made sure to point out that she could not have recorded most of her stats without strong play from her teammates.
Never was that more true than when the Lions needed it most. During the second set against Mill Valley — which the Lions trailed 23-18 at one point — LHS staved off three different match points on its way to the 31-29 victory. During each elimination rally, the Lions were rock solid all the way around, with strong passing from Morgan Green and Kendyll Severa and sound execution from all of their hitters. With all of that working around her, junior setter Kiely Mosiman quarterbacked the team to perfection on each critical point.
"At the end, we just got back to doing what we knew would work well," Mosiman said. "I think we showed that we are that tough to fight through that, but we all know we need to start off better so we don't have to be that tough all the time."
Added Schonewise: "A lot of that was just adrenaline. We knew we were in a do-or-die situation and we knew we had to step up."
Once the Lions broke Mill Valley's spirits in set No. 2 — which ended with an ace from junior Kelsey Broadwell — they rolled to victory in the third and decisive set. Behind an array of shots from Schonewise, which included a nifty, cut shot with her off hand, the Lions built leads of 4-1, 7-2 and 17-11 and never looked back.
"It's amazing," Schonewise said. "We work really hard in practice and we're all on the same page and we have the same goals. I think that plays a huge part in our success."
Despite losing in straight sets to the rival Falcons in the nightcap, LHS made enough of a statement to feel good about its effort.
"I thought we did an awesome job against their middle hitter," Mosiman said. "We shut her down."
Schonewise, who was largely responsible for the even play in the middle, said she liked just about everything she saw from her team against the Falcons on Thursday.
"I think we have what it takes to get them later in the year," she said.
Added Magnuson: "We're there."
The Lions (4-2) will play on Saturday in the Maize Invitational.
Copyright 2017 The Lawrence Journal-World. All rights reserved. This material may not be published, broadcast, rewritten or redistributed. We strive to uphold our values for every story published.