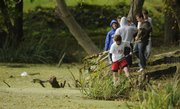 With one pitchfork toss at a time, Kansas University students were working to restore one of the school's most idyllic landmarks Saturday morning.
Organized by the Potter Lake Project, a group of around 30 students had gathered on the shores of the campus pond in hopes of improving its health.
It was a task that required weeding out thousands of pounds of coontail.
Students paddled out to the center of the lake in small fishing boats and used pitchforks and garden rakes to pull up the coontail. Barely a dip in the water yielded forkfuls of the green, seaweed-looking plants.
The group did a similar project three weeks ago and dredged up three tons of coontail.
Saturday's work was a drastic measure for a body of water whose health is in critical condition, Potter Lake Project president Matt Nahrstedt said.
Approaching 100 years and inundated with rain, Potter Lake was at a crisis stage this summer.
Green, grainy watermeal had completely covered the surface of the lake and beneath it lay even more plant life — sucking up oxygen.
As a result, fish were dying — hundreds of them.
"It became really apparent … that we really had to do something now," Nahrstedt said.
Partly because of the natural cycle of manmade lakes and partly because Potter Lake is a draining pool for Jayhawk Boulevard and the ending point for fertilizer run-off, the bottom of the lake is covered in deep nutrient-rich sediment ripe for plant life. And too much plant life can overwhelm the lake, taking away oxygen for fish and other animals.
Saturday's mass coontail removal was one of several steps taken after conditions reached a serious level this summer.
Supported by alumni donations, the Potter Lake Project spent $15,000 to put in an aeration system, which provides more oxygen to the lake, and to purchase a skimmer, which will help remove the watermeal.
But the ultimate solution, the project's vice president Melissa Allen said, is dredging the lake, which hasn't been done in 50 years. It's a fix with a $50,000 to $100,000 price tag.
"For the lake to become beautiful … it needs to be dredged," Allen said.
Copyright 2018 The Lawrence Journal-World. All rights reserved. This material may not be published, broadcast, rewritten or redistributed. We strive to uphold our values for every story published.